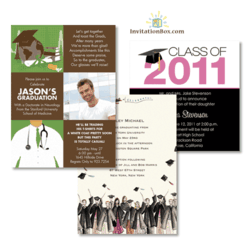 Cary, North Carolina (Vocus/PRWEB) April 19, 2011
Just in time for the 2011 graduation season, InvitationBox.com, one of the Internet's leading companies in the sales of stationery and party invitations, has introduced a brand new line of trendy graduation invitations and graduation announcements. From high school or college graduations to dental school, law school, nursing school or medical school graduations, InvitationBox.com helps their customers find the perfect celebratory graduation invitation or graduation announcement to celebrate the 2011 graduate's achievements.
In an effort to assist customers when shopping online for graduation invitations and graduation announcements, InvitationBox.com has revamped their entire graduation collection into categories pertaining to each individual grad. Customers can easily locate and select graduation invitations by gender, class of 2011, school colors, graduation themes or specific professions pertaining to nursing, medical school, dental school, law school or grad school. "Graduation is a very important time in not only a student, but a parent's life," says Jon LaNasa, Chief Executive Officer of InvitationBox.com, "Our customers celebrate everything from high school graduations to medical school graduations; our goal is to provide our customers with the perfect graduation essentials for every type of graduate, while providing an effortless shopping experience."
InvitationBox.com's graduation collection offers over 400 different graduation invitation and announcement designs featuring graduation caps and diplomas, elegant patterns and vibrant school colors. Customers wanting to share a photograph of a graduate also have the opportunity to upload their graduate's photograph to the InvitationBox.com website while customizing their photo graduation invitation or announcement, which will be printed on their chosen invitation or announcement design. "Digital photo graduation announcements and invitations are some of InvitationBox.com's most popular graduation designs," says Derek Stockman, Chief Marketing Officer of InvitationBox.com, "The customer is able to create a keepsake to commemorate their graduation, as well as share a photograph of the graduate with family and friends."
InvitationBox.com offers a graduation collection which features trendy, stylish and one-of-a-kind brand new graduation invitations from well-known vendors including Checkerboard, Noteworthy Collections, Bonnie Marcus & Co., Inviting Company and William Arthur, to name a few. Customers shopping for graduation essentials are sure to find the perfect graduation invitations, graduation announcements and graduation thank you notes at InvitationBox.com which features unique products at affordable prices, along with an easy step-by-step ordering process and exceptional customer care.
###