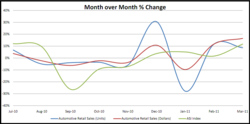 Observing automotive shopper behavior over the past several months we see shoppers reacting, at least in the short term, to changes in the market place
Nashville, TN (PRWEB) April 20, 2011
Dataium's ASI (Auto Shopper Intensity) index recorded an increase over February for the month of March, marking four straight months of gains. The rise of the ASI index slowed both in February and the first part of March; impacted by the initial phases of both the Libyan conflict and the Japanese disaster. However the American consumer's resilience was clearly evident as the ASI index continued previous month's increases despite rising gas prices and economic uncertainty worldwide.
The index measures overall automotive shopping activity across local dealership websites and automotive portals. The aggregate is not necessarily representative of the sales revenue for this activity, but is more representative of unit volume, though analysis of the ASI index by model will provide a greater indication of future revenues for the manufacturers. Changes in demand may still yield lower revenue per unit as consumers adjust for increasing costs elsewhere. Among the component metrics that make up the ASI index, internet traffic and automotive lead volume showed the strongest gains. It should also be noted that the industry is heading into a traditionally strong selling period and thus some gains in the index may be driven by seasonal trends.
Though consumer automotive demand continued to gain, changes were observed in the type or segments of autos shopped. A clear shift from SUVs to sedans is evident with increasing interest in Hybrids. The ASI index for SUVs was down 15% as a segment, at the same time the Hybrid segment saw a 34% increase. To request a complete breakdown of the ASI index by make and model contact Dataium at dataium.com/contact.
"The American consumer has consistently shown great resilience; demonstrating the ability to overcome adversity and financial strain to fuel our economy", stated Eric Brown, CEO of Dataium. He continued, "observing automotive shopper behavior over the past several months we see shoppers reacting, at least in the short term, to changes in the market place; shoppers then quickly adapt to these changes and return to their previously observed behavioral patterns."
Through proprietary patented data collection and analytics, Dataium aggregates and measures billions of auto shopper events among millions of active auto shoppers across a network of diverse automotive websites. Dataium not only provides data and research on auto shopper behavior nationally, but by specific makes, models, vehicle segments, and specific markets as well. The national report is available for download at dataium.com/library. Dataium reports and dashboards are available on a subscription basis or may be customized for those who wish to access real-time updates or may have specific data requirements.
About Dataium, LLC
Dataium is the largest aggregator of Internet automotive shopping activity. The company collects, analyzes, and indexes billions of online automotive shopping events. Dataium supports patented data collection and reporting technology; VisiCogn® Collection Utility, VisiCogn® Knowledge Center, VisiCogn® INSITE, and is also known for its ASI™ index. For more information, visit http://www.dataium.com, email: info(at)dataium(dot)com, or call 877-896-DATA (3282).
# # #