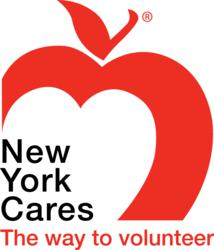 New York, NY (PRWEB) April 21, 2011
New York Cares, the city's largest volunteer organization, today announced five New York City nonprofit organizations selected for its new Volunteer Impact Partnership (VIP) program. These organizations will participate in an intensive three year volunteer impact study with New York Cares to identify and measure the benefits of multi-level volunteer services on nonprofit capacity. The selected organizations will benefit by expanding and enhancing their programming through volunteer resources delivered by New York Cares. The program is free to the selected organizations, who will collectively receive services valued at $750,000 over three years.
The following organizations were chosen for New York Cares' VIP Program:

Gallop – a nonprofit that uses therapeutic horseback riding to bring new levels of confidence, coordination, communication skills, and emotional connections to children and adults with various developmental, emotional, social and physical challenges.
Jewish Home Life Care – a Manhattan-based non-profit pioneer in caring for the elders of New York, offers a full range of skilled nursing, rehabilitative, housing and home and community-based health services at its three campuses.
PS 188M, The Island School – a New York City K-8 public school on the Lower East Side.
Sunnyside Community Services – a multi-service organization in Queens that provides a continuum of services to community members of all ages, including programs for seniors and educational and recreational programs for children.
Women in Need – a comprehensive service provider offering transitional shelter housing, permanent supportive housing, and substance abuse treatment to over 10,000 of New York City's homeless and disadvantaged women and children each year.
"New York Cares has been committed to maximizing the impact of volunteers at nonprofit organizations since we were founded in 1987," explained Gary Bagley, New York Cares Executive Director. "The VIP program is the next step in this journey and will enable us to better measure volunteer impact by taking a long-term approach to program development and evaluation. Volunteers are more than nice to have – they are absolutely critical to the success of the social sector and our community. We're excited at the prospect of pushing that envelope further through the VIP program."
The New York Cares VIP program kicked off with a competitive selection process in February 2011, with over 100 applicant organizations. Leading nonprofit consulting firm TCC Group will work with New York Cares to develop new evaluation methodology. Partial funding has been provided by Gap Inc.
"The New York Cares VIP Program takes a strategic approach to maximizing volunteers' time and expertise. We believe that the program has the potential to be significant at a national level," says Bobbi Silten, President of Gap Foundation at Gap Inc. "We've supported New York Cares for many years and value our partnership. We're excited to see how the VIP Program will advance the work of nonprofits in New York City, and by sharing the insights, benefit other organizations across the country."
"The VIP program is a great example of how a not for profit organization can help NYC Service meet our citywide mission to tap into the power of the people of New York City to tackle our most pressing challenges. New York Cares' Volunteer Impact Partnership program aligns with the City's goals to increase volunteerism and nonprofit capacity," said Diahann Billings-Burford, NYC Chief Service Officer.
Through VIP, selected partners will:

Work with a dedicated New York Cares team to develop tailored programming to meet the needs of communities served by the participating organization. New York Cares will deploy individual volunteers, corporate volunteers, and volunteers with professional skills (e.g., bilingual, marketing, finance, or technology skills) in integrated programs to expand each organization's capacity to serve its constituents.
Work with New York Cares to create and implement a three-year strategic plan that expands programming and organizational capacity.
Receive professional training on volunteer management, program design and evaluation.
Receive supplies related to this program at no cost.
About New York Cares
New York Cares is New York City's largest volunteer organization. Founded in 1987, New York Cares runs volunteer programs for 1,200 New York City nonprofits, city agencies, and public schools across the five boroughs. Last year, 53,000 New York Cares volunteers served on hands-on volunteer projects helping 400,000 New Yorkers in need. New York Cares offers a full range of volunteer programs that meet critical social needs, including helping children learn to read, preparing meals for homeless and housebound people, helping low income students get into college, and much more. For more information, visit newyorkcares.org.
# # #