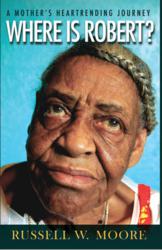 What happened to the boy in the chimney?
Los Angeles, CA (PRWEB) April 27, 2011
Where is Robert?" is a factual account of the long standing mystery covered by the Los Angeles media about what happened to Robert Thompson and the troubling events which took place within his family. Robert was an African American boy whose remains were found in a chimney more than 27 years of being a missing person.

Was Robert murdered?
Could his death have been a strange accident?
Why was Robert's remains undiscovered for over a quarter of a century?
This book tells the compelling story of a poor family growing up in South Los Angeles. During the spring of 2005, Robert's remains were found in a South Los Angeles chimney of an old abandoned building by an eleven year old girl in search of her soccer ball. The puzzle of how he ended up in this strange place during a rainy 1977 Christmas holiday is a true story filled with events of trauma, tragedy and bad luck that were excessive: even by the standards of African American families living in an area its' inhabitants call, "the hood."
Clelia Thompson, the family's matriarch, shares her calamitous experiences with the reader. Her life is filled with pain, a paranormal experience and systemic failures which could happen to anyone. The number of tragedies that troubled this struggling family is overwhelming.
This book is a must read for people in search of understanding through a medium of true life stories. Parents raising at-risk children; students hoping to enter the helping professions; teachers desiring to make this planet a better place; mentors wanting to share knowledge with troubled teens; and educators engaged in the fight to level the playing field, should read, share, analyze and discuss this true life biography.
Russell Moore wrote this story from the prospective of having spent 36 years in community service, 33 years as a Los Angeles County Probation Officer and field supervisor. During his career, he witnessed both success and tragedy.
Where is Robert? is now available at http://www.whereisrobertbook.com, Google, and Amazon in paperback or electronic versions. Please take the time to visit the web site, read the book, and email Russell Moore feedback concerning the telling of this story and the points of interest found in these pages. Comments and suggestions are encouraged and welcomed.
###