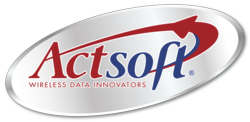 Even though our team is as diverse as you can get, we are like family.
Tampa, FL (PRWEB) April 21, 2011
Actsoft, Inc. was recently named one of Tampa Bay's Top Work Places 2011 by the St. Petersburg Times. Employers were initially nominated by their employees, then the entire workforce was surveyed about several different topics, including practices and policies that make these companies "top places to work."
"No surprise here," states Jill Scott, Actsoft's Marketing Director. "Actsoft is an amazing place to work. Few companies can boast the acute sense of professional respect and courtesy that is exhibited from the top down; to every single employee, every day. Even though our team is as diverse as you can get, we are like family."
The Top Work Places 2011 in Tampa Bay program was created by the St. Petersburg Times and WorkplaceDynamics.
The companies were ranked based on leadership, compensation and training, workplace flexibility, and diversity. The rankings were published on TampaBay.com, in the April 17 edition of the St. Petersburg Times and on April 18 in tbt* Tampa Bay Times.
"Readers have a good sense of what truly makes these Tampa Bay companies special places to work. We've captured and shared the stories of the employees and trends in the workplace. It's a great combination," said Neil Brown, Times editor and vice president.
For a complete list of the 2011 Top Work Places in Tampa Bay, go to http://www.tampabay.com/topworkplaces2011.
About Actsoft Inc.
Actsoft, Inc. is a leading developer of GPS based mobile applications for today's business with workers on the go. Their products include Comet EZ, Comet Tracker, Comet Mobile Worker, Advanced Wireless Forms and DashTrac. Actsoft provides enterprise solutions through all major wireless carriers to tens of thousands of companies in the United States, Canada and many locations around the world. Founded in 1996, Actsoft, Inc. is headquartered in Tampa, Florida. Actsoft was the recipient of Frost & Sullivan's 2009 Customer Service Excellence Award. For more information visit http://www.actsoft.com.
About the St. Petersburg Times
The St. Petersburg Times is widely considered one of the Top Ten newspapers in America. The Times has won eight Pulitzer Prizes and is produced by the Times Publishing Company, which also publishes TampaBay.com - Tampa Bay's largest local news Web site with nearly 1.5 million unique visitors each month (Nielsen NetView three-month average for 10/10-12/10). Additionally, the company publishes the free daily tbt* Tampa Bay Times and the Pulitzer Prize-winning Web site, PolitiFact.com; and produces special events, specialty publications, and targeted advertising programs.
About Workplace Dynamics
WorkplaceDynamics is one of the largest workplace survey providers in the United States. Each year it surveys thousands of companies and partners with leading media organizations to produce definitive Top Workplaces lists. Using proprietary, cutting-edge online applications, WorkplaceDynamics is bringing employee engagement to the web.
###