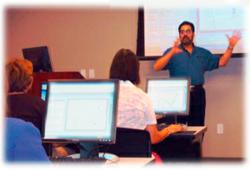 BobCAD-CAM's training beat my expectations... this made my transition to CAD/CAM easy for my company.
Clearwater, FL (PRWEB) April 20, 2011
After successfully serving the global manufacturing industry for more than 25 years by developing CAD/CAM software for CNC Machining, BobCAD-CAM, Inc. continues to expand its schedule of basic and advanced 3 day training seminars in major North American cities. Now their customers can learn everything they would need to know to become certified BobCAD-CAM operators, walk away with a certificate of achievement and begin their road to success using the companies 2, 3 and 4 Axis CNC Machining software.
The schedule includes stops in Chicago, IL April 25 through the 29th for basic and advanced training seminars and continues on through Kansas City MO, Los Angeles CA and Hartford CT and even Clearwater Florida. Each training seminar is dedicated to teaching the basic fundamentals of using their CAD/CAM software all the way through producing programs for use with CNC Milling machines.
After 35 years in manufacturing, the BobCAD-CAM senior trainer Sorin Nenu has the right angle in teaching CAD/CAM CNC Software, "I developed a system that will help you learn and have fun at the same time. My approach to this is to make my attendees feel comfortable with the software while challenging you to learn as much as you can, to be the best that you can be. Many people come to my classes not being machinists by trade and because I don't try to intimidate them, by trying to use a easy going approach, we get them to get the same "bug" that most of us machinist have. During my classes any question goes if it regards machining because I don't want to have people leaving without having their questions answered." One success includes Tim Cook of Cooks Machine, "I recently went to the BobCAD training classes in Indianapolis and would like to comment on the professionalism that Sorin brought to your seminar. I have learned many new things about the software that will enable me to improve the productivity and the ease of programming jobs for my shop!"
In addition to the 3 day training seminar schedule, BobCAD-CAM offers their customers online training by the hour where they can achieve personal training goals one on one at their own computer with a professional trainer, in-house training classes where customers can visit BobCAD-CAM's headquarters in sunny Clearwater, FL for a seminar and even on-site training where they can come to your shop and train customers in the comfort of their own facilities.
For more information on BobCAD-CAM software training seminars and other training opportunities, contact the BobCAD-CAM Director of Training at 877-262-2231 Ext 126 or 727-442-3554 Ext. 126 or visit http://www.bobcad.com/training.
###