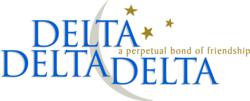 "This trip was an incredible opportunity to see firsthand how the values and leadership skills taught by fraternities and sororities helped many of our Representatives and Senators to pursue this career path and achieve their goals," said Emily Rankin.
Arlington, Tex. (PRWEB) April 21, 2011
Community leaders from around the country converged this week on Capitol Hill, joining together to lobby on behalf of issues affecting the collegiate members of fraternities and sororities.
Katie Cusack, the current president of the Tri Delta chapter at University of Wyoming, was honored to be selected as a part of the lobbying team. "This exciting opportunity to join my fellow Tri Deltas in our nation's capital is the perfect blend of my passion for Greek life and my involvement with student government," she said. Cusack was joined by 140 collegiate students, including four members of Delta Delta Delta Fraternity, who met with congressional representatives to discuss the Collegiate Housing and Infrastructure Act.
The Collegiate Housing and Infrastructure Act (CHIA) gives equal tax rights to non-profit organizations providing student housing, including fraternal entities like Delta Delta Delta's National House Corporation. Fraternities and sororities provide housing for over 250,000 students each year, nearly one out of every eight students in America. The passing of the CHIA will allow non-profit student entities to use charitable contributions to build and maintain housing for these students.
Selected from a pool of over 30 applicants, Anisha Chikarmane, California/Davis, Emily Rankin, California/Los Angeles, Katie Cusack, Wyoming and Kelsey Castleberry, Arkansas, represented the 139 chapters of Delta Delta Delta throughout the visit.
"As the fall of 2009 brought drastic budget cuts and fee increases for UC students, I realized that now more than ever was the time for students to stand up for education on the national political agenda," said Anisha Chikarmae, a student at the University of California Davis, studying International Relations.
Also from California, Emily Rankin is a senior at University of California Los Angeles. She is majoring in political science and public policy and was motivated to be a part of the lobbying effort to show her support for the CHIA. After spending a quarter interning in D.C., Rankin was recognized as a Robert T. Matsui UC Congressional Fellow and will return to begin a career in politics following graduation.
Kelsey Castleberry is a junior at the University of Arkansas. "I want to provide my Tri Delta sisters and fellow Greek members the opportunity to live in as wonderful a house as I have, and at the same time, I'm hoping to improve Greek housing on my campus," said Castleberry.
While in Washington, the women worked alongside fellow collegians and alumni from the National Inter-fraternal Conference and National Panhellenic Conference to meet with over 400 representatives, requesting support of the CHIA.
"This trip was an incredible opportunity to see firsthand how the values and leadership skills taught by fraternities and sororities helped many of our Representatives and Senators to pursue this career path and achieve their goals," said Emily Rankin, "Their commitment to the fraternity experience inspires me to work to keep college affordable so that future students may have the same opportunities I have been allowed to have as a member of Tri Delta."
# # #