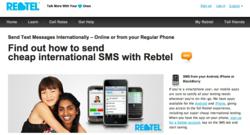 "The launch of our Rebtel messaging API opens a huge opportunity for large SMS replacement providers and group messaging services to pass on huge cost-savings to their customers," said Rebtel CEO Andreas Bernstrom.
Stockholm, SWEDEN & San Francisco, USA (PRWEB) April 20, 2011
In a bold move to cut consumer costs on international text messages, Rebtel, the world's second largest mobile VoIP company, today introduced ToIP (Text-over-IP) a new texting service that allows for SMS through local numbers over internet and also gives large SMS application providers a way to extend savings to their customers, while creating a better way to monetize these target groups.
In addition, Rebtel announced it has dramatically reduced rates on international text messages from the U.S. also for people who don't own smartphones. Rebtel ToIP for feature phones, which is a complement to the SMS service in their smartphone offerings, is up to 92.5% less expensive than the going rate offered by Sprint, and up to 93% cheaper than AT&T and Verizon, the two largest mobile telecom carriers in the U.S.
"The launch of our Rebtel messaging API opens a huge opportunity for large SMS replacement providers like KiK, WhatsApp or group messaging services like TextPlus, GroupMe and others, to pass on huge cost-savings to their customers," said Rebtel CEO Andreas Bernström. "We are the very first service provider to launch cheap international SMS through local numbers, and this is just the latest example of how Rebtel is committed to bringing innovation to market that benefits consumer's pocketbooks instead of carriers' profits."
The news about Rebtel's new messaging service comes in wake of the company's recent record-breaking revenue increase of 120%, reaching $40 million in 2010. With over 1 billion minutes logged and over 200 million international calls connected since its founding in 2006, Rebtel, with a current run-rate of $60 million, expects to double its revenue to $75 million this year.
How Rebtel's Text-over-IP Service Works
Just like Rebtel's innovative method invented for making free and low cost international voice calls, Rebtel ToIP uses local numbers where the sender lives for addressing text messages to friends, loved ones, and co-workers living abroad.
By using local numbers instead of long international numbers, people can send text messages to one another as often as they like for a fraction of what the carriers charge.
Getting started is fast and easy:
1. Go to http://www.rebtel.com and enter your mobile phone number and your loved one's mobile number.
2. Rebtel creates a local number where you live and sends it in a text message (SMS) to your phone.
3. Save the number in your phone's address book and use it at any time to send a text message or call your loved one abroad and save at least 50% from regular operators costs.
"Smartphone users have been able to use a variety of apps to circumvent carriers' rip-off rates for international text messaging for quite some time," Bernström said. "Rebtel ToIP finally gives the same opportunity to feature phone users who wish to send texts abroad without incurring expensive charges each time."
To learn more about how existing U.S. Rebtel customers can now send international text messages using the same local numbers previously created for them to make voice calls, please visit: http://www.rebtel.com/en/Services/international-online-texting-and-sms/
Group and PUSH messaging providers interested in the service or more information can send an email to sales(at)rebtel(dot)com.
Rebel on the Rise
Rebtel has come a long way since its founding by Hjalmar Winbladh and Jonas Lindroth in 2006, with strategic acquisitions and the launch of international calling applications for iOS in 2009, Android in 2010, and BlackBerry in 2011.
Unlike Skype, which still requires calls to be made over Wi-Fi, a fixed Internet connection, or a $99 per month Verizon plan, Rebtel works with any phone -- landline, feature phone, or Smartphone -- for just the low price of the call.
About Rebtel
Rebtel is the world's second largest mobile VoIP company Rebtel customers can use any phone to call anywhere in the world for just pennies per minute or for free between the 53 countries where Rebtel is available. There are no monthly fees, no connection fees, or hidden costs to use Rebtel. Rebtel also has applications for the iPhone, Android or BlackBerry. For more information, or to start using Rebtel, go to http://www.rebtel.com.
Media Contact:
Eric Gonzalez
VSCpr for Rebtel
415.272.0836
###