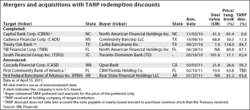 As of Apr. 15, 120 of the 715 participants in TARP's banking programs have fully repaid their investments, and 13 more have made partial repayments.
Charlottesville, VA (PRWEB) April 20, 2011
A trend has been emerging in the world of TARP redemptions over the past seven months: the Treasury has been accepting discounted repayments on its investments under the Troubled Asset Relief Program.
Now that many of the healthiest TARP-participating banks have exited the program, it has been those that are having more difficulty recovering from the recession that have not been able to pay back the Treasury's investments. A growing number of these institutions have sought relief through acquisition, but the full burden of TARP can scare off potential buyers.
In order to get the highest possible return on its investments in these struggling banks, the Treasury has increasingly shown its willingness to work with buyers and the TARP participants themselves by allowing discounted redemptions. Rather than sitting idly by and watching TARP participants file for bankruptcy or fail, as has now happened on nine occasions, the Treasury has taken a more proactive approach in working with institutions in need of further assistance.
Since Sept. 30, 2010, the Treasury has accepted seven discounted repayments, five of which occurred during acquisitions. Prior to this time, not one of the 90 institutions that had redeemed all or part of their TARP received a discount, although many companies were thought to have received a low price when repurchasing their outstanding warrants.
The seven discounts that have occurred thus far have ranged from nearly 85% down to the Treasury simply letting go of its warrants for free with a full preferred share repayment. Although there is no clear trend that explains the varying magnitude of the discounts, all companies receiving discounts have performed poorly since receiving the TARP investment. The median ROAE of the seven institutions that have redeemed at a discount was -71.5% for the last-12-month periods leading up the redemptions, while for TARP companies on the whole the median for 2010 was 2.7%. The median adjusted NPAs/ total assets for these seven institutions was over double the average of TARP-participating banks, at 7.6% compared to 3.4%.
In addition, six of the seven companies that have redeemed at a discount had previously missed TARP dividend payments. The exception was Capital Bank Corporation, which also received the smallest discount. Capital Bank Corp. stated in a proxy filed for a Dec. 16, 2010 shareholders' meeting that it was hoping to receive a 50% discount on its preferred shares, yet it wound up paying back the entire amount and getting a pass on the warrants.
Discounted redemptions do not appear to be letting up anytime soon, as the Treasury has agreed to pending discounts with three additional TARP-participating banks.
Pinellas Park, Fla.-based First Community Bank Corp. of America struck an agreement with the Treasury on Mar. 11, to redeem its $10.7 million in TARP at a discount of $7.2 million plus 72% of the company's post-acquisition cash assets. The transaction will occur as part of the voluntary dissolution of the holding company which received shareholder approval on April 11. The company's subsidiary, First Community Bank of America, is being sold to CBM Florida Holding Co.
Everett, Wash.-based Cascade Financial Corp. will be exiting TARP at a discount as part of its planned sale to Opus Bank. Opus Bank will retire the target's $39 million of outstanding TARP funding for $16.3 million.
Additionally, the Treasury and First Federal Bancshares of Arkansas Inc. have agreed to a 63.6% TARP discount as part of the company's pending acquisition by Bear State Financial Holdings.
All three of the companies that have agreed to future discounted repayments have also missed multiple TARP dividend payments, including the latest payment in February.
The Treasury negotiates each redemption separately, and it has shown it is no slouch when it comes to getting as much money back as possible. In addition to the previously mentioned Capital Bank Corp. negotiation, the Treasury did not accept a TARP discount on two recent bank deals.
Plano, TX-based Fidelity Resources Co was acquired by Veritex Holdings Inc. on Mar. 23 and Fidelity's $3.0 million in outstanding TARP preferred was converted into a like amount of securities of Veritex. On Mar. 30, as part of Metropolitan Bank Group Inc.'s acquisition of NC Bancorp Inc., the Treasury exchanged $6.9 million of its preferred stock in NC Bancorp and $71.5 million of its preferred stock in Metropolitan for $81.9 million of a new series of preferred stock in Metropolitan, which is equivalent to the combined initial investment plus $3.5 million of previously accrued and unpaid dividends.
The Treasury must walk a fine line in deciding whether or not to assist banks in their TARP repayment. The Treasury now faces a total loss on its investment in Birmingham, Ala.-based Superior Bancorp, which received $69 million in TARP funds and its banking unit, Superior Bank failed on Apr. 15. Altogether the Treasury faces $2.8 billion of losses on nine bankruptcies and failures.
Accepting discounted redemptions to encourage acquisitions has not been the Treasury's only method for protecting its investments. Four institutions have now converted their TARP preferred stock at steep discounts, the most recent coming when Honolulu-based Central Pacific Financial Corp. exchanged its $135 million in TARP preferred stock for a lower amount of common stock, pursuant to a recapitalization agreement completed Feb. 18.
Meanwhile, the government agreed to take a 50% discount on its investment in Los Angeles-based Broadway Financial Corp., which is exchanging its $15 million in TARP preferred stock for half the equivalent amount in common stock. The agreement is subject to closing conditions.
Although the number of discounts, failures and missed dividend and interest payments continues to grow, TARP's banking programs have already become profitable, according to a Treasury report released on Mar. 30. As of Apr. 15, 120 of the 715 participants in TARP's banking programs have fully repaid their investments, and 13 more have made partial repayments. The Treasury has now generated approximately $6 billion in profits on its $245 billion TARP investment in banks and thrifts.
This report was prepared by Kevin Curry, with contributions from Maria Tor, SNL Financial analysts on April 20, 2011.
PRESS CONTACT:
Christina M. Twomey
Public Relations
SNL Financial
434.951.6914 desk
434. 825. 3773 mobile
@christinatwomey Twitter
christinatwomey Linked In
http://www.snl.com
SNL Financial is a leading provider of financial information on more than 3,300 public companies and 50,000 private companies in the business sectors critical to the global economy: Banking, Financial Services, Insurance, Real Estate, Energy and Media & Communications. The SNL information service integrates breaking news, comprehensive data and expert analysis into an electronic database available online and updated around the clock. For more information, visit http://www.snl.com.
###