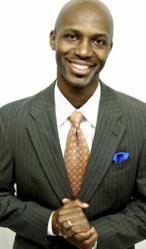 I learned from an early age that eating healthy was something my family could not afford to do.
(PRWEB) April 21, 2011
Weight Loss Management Cutting Edge Strategies are taking the public by a storm. Wellness Coach, Tony Tate reveals the secret strategies that his clients are now using to shed those unwanted pounds and maintain a fit and healthy life. He teaches people throughout the country how to do this in a non-expensive and noninvasive manner to fit within their lifestyle.
Growing up in the projects, Tate learned from an early age that eating healthy was something his family could just not afford to do. He grew up with the belief that healthy eating was something only wealthy people could do and that this class of people were the fit ones.
As he began educating himself Tate realized that anyone from any background could be taught healthy weight loss management strategies. His goal was to find an affordable but extremely healthy arena in which to do this. In an interview with his publicist Tatyana Gann, Tate stated "I wanted to find a health company that could provide the education and affordable products that even middle class families could start their whole family eating healthy".
In his search for healthy eating and weight loss management tips, Tate looked at 23 different companies before he found one that matched with his goals and visions to help educate the public on healthy and affordable food. He went on to participate in a program called Body by VITM Community Challenge that helps feed hungry children in a healthy and appropriate manner.
Tate later went on to be interviewed on radio show J 97.5 Christian Online Radio about this experience raising awareness for healthy meals. In an offline discussion Tate stated that "this was the most rewarding journey of his life to raise awareness that healthy eating should start at an early age and that anyone regardless of their age or status in life deserves the education and chance to learn health and weight loss management strategies".
Wellness Coach, Tony Tate shares these fantastic, cutting edge secrets that his clients use to for healthy eating and weight loss management:
-Meal Management: Take time to eat your meals and stick to a regular schedule when eating.
-Meal Moderation: It is important to have a snack to keep blood sugars level if you cannot eat your full meal at regularly scheduled time.
-Meal Migration: Eat your meal in the proper setting , relax while eating, and let food naturally digest.
-Meal Masquerades: Keep healthy foods within your vicinity. Avoid garbage foods from vending machines.
-Meal Maintenance: Plan exactly what you are going to eat.
Savvy consumers will take advantage of these trendsetting strategies to increase their longevity. To read more about Tate's healthy eating and weight loss management recommendations, visit http://www.tonytate.net or call 904.537.1740.
In addition; to learn more about how the Body By Vi ChallengeTM works a free report is available for immediate download. http://tonytate.bodybyvi.com
For media Tony Tate is available for interviews. Many resources about Tony Tate's online network marketing training, events and special webinars can be obtained at http://www.tonytate.net.
Publicist Tatyana Gann, 615.354.7625
###