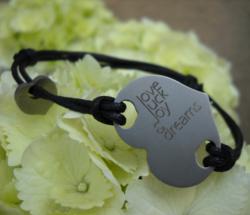 OKYDOKYS TITANIUM bracelets and pendants Make The Perfect Summer Gift bringing LOVE, LUCK, JOY & DREAMS.
(PRWEB) April 21, 2011
OKYDOKYS bracelets and pendants are the perfect way to make people realize how important they are to you and how much you care about them.
OKYDOKYS bracelets and pendants are Made in Italy using Titanium, first discovered on the shores of Cornwall, land of piskies, giants, mermaids and good luck charms, and still today believed to have healing properties and providing auric protection.
Today Titanium (named after the TITANS) and its alloys have proven to be technologically superior in just about everything they have been applied to e.g. The Space Shuttle, and certainly live up to their name.
A white metal with a greyish white shine to it, Titanium is as strong as steel, yet 45% lighter.
As a Noble Metal it is resistant to salt water, perspiration and acids! Moreover it will retain its amazing shine far longer than Gold or Silver thanks to its amazing non-oxidizing properties!
Hypo allergenic, it is a must have for all those who have suffered allergic reactions to precious metals such as Gold and Silver.
OKYDOKYS bracelets and pendants are available in a selection of genres and price ranges: From the simpler titanium version, to the one with diamond, emerald, aquamarine etc
For further information please feel free to contact our distributors: VIP Luxury Service Ltd on okydokys(at)vipluxuryservice(dot)com or you can buy online your perfect gift!
Press please contact press(at)okydokys(dot)com http://www.okydokys.com
###