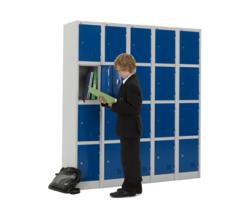 (PRWEB) April 20, 2011
UK schools continue to struggle with shrinking budgets and unexpected cuts. It has been reported there will be an unplanned £155 million cut this year, so schools will need to find ways of doing more with less, and making their budget stretch further. Storage specialist Action Storage offers one solution in the form of its Atlas Economy Steel Lockers. These offer schools high quality storage at a budget price, and can enable schools to continue providing pupils with secure storage facilities, despite the cuts in funding.
Atlas Economy Lockers are built from hardwearing steel with reinforced doors. This robust design provides the durability that's essential for coping with the hustle and bustle of school life.
Action Storage's Atlas Economy Lockers are available in a variety of sizes and door options to suit the available space and the items that need to be stored. The one and two door models are ideal for storing coats or longer items, with a coat rail fitted as standard, whilst the 3 or 4 door options are the perfect size for storing text books, gym kits and school bags.
Locker doors are available in bright blue or grey, with an anti-bacterial finish to keep them clean and hygienic. Keylocks and swivel catch locks (to suit padlocks) are supplied as standard. For schools, keys being lost or not returned by pupils are a constant headache. The Atlas Economy Lockers, however, resolve this problem with a management key that enables key lock barrels to be easily removed and replaced with a new lock.
The sudden budget cut means that schools won't have much time to reallocate how they spend their budget. For many suppliers, this short notice would be a problem. But due to the high capacity of its Milton Keynes warehouse, Action Storage can supply and install Atlas Economy Steel Lockers within 7 days.
Along with the Atlas economy school lockers, Action Storage supplies laptop lockers, cycle shelters and a wide array of storage equipment solutions for schools. In particular, Action Storage supplies the innovative eXtreme Plastic Lockers® which can be stacked indoors or outdoors under cover without the risk of rust. eXtreme can withstand break in attempts with a clawhammer. Both the eXtreme Plastic Lockers® and Atlas Lockers® are also available on a rental basis if schools don't wish to purchase them outright.
Details of the Atlas Economy Steel Locker and the 4000 other products in Action Storage's range can be found on its website, where you can also order a free copy of its 180 page catalogue. Any orders placed online receive a 5% discount. Schools, and other public sector organisations, can also place orders on credit with a valid purchase order.
About Action Storage
For 25 years Action Storage has supplied shelving, racking and other storage equipment using the latest materials and innovative designs. Its clients include supermarkets, warehouses, government offices, schools and anyone else requiring high quality storage systems throughout the UK and mainland Europe.
Action Storage prides itself on its high service levels, and provides a free, unique advice line for discussing your requirements and assessing the perfect storage solution.
For service enquiries contact:
Website: http://www.action-storage.co.uk
Email: sales(at)action-storage(dot)co(dot)uk
Tel UK: 0800 592215
Outside UK: +44 (0)1908 525700
Fax: +44 (0)1908 321650
Action Storage
6 Fitzhamon Court
Wolverton Mill South
Milton Keynes
Bucks
MK12 6LB
Ref: http://www.guardian.co.uk/education/2011/apr/07/schools-last-minute-budget-cut
###