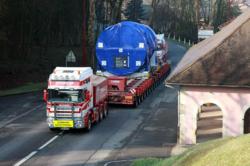 "Power supply security, efficiency and lower emissions will be among the key benefits of the new Megalopolis power plant,"
Athens, Greece (PRWEB UK) 22 April 2011
GE has shipped advanced gas turbine combined-cycle equipment for the Megalopolis Power Plant in Central Peloponnesus, Greece. The combined-cycle package will replace four lignite-fired units at the site to help the country meet both its energy and environmental goals.
Last year, Terna S.A., an engineering, procurement and construction (EPC) firm in Greece, awarded GE a $130 million contract to provide equipment and services for the project. The existing lignite units at the site are scheduled to be shut down due to their environmental impact. The new project, featuring a GE 209FB combined-cycle package, will provide additional power to the grid and help provide grid stability by insuring an adequate supply of new energy, while significantly reducing emissions compared to the lignite units.
"Power supply security, efficiency and lower emissions will be among the key benefits of the new Megalopolis power plant," said Jannis Stefanatos, director of Power Generation Projects for Terna. "We're very pleased to work with GE, a global leader in power plant technology, to help bring the people of this region of Greece a reliable supply of cleaner energy."
Over the past 10 years, GE has supplied natural gas-fired technology for new power plants across Greece totaling approximately 3.5 gigawatts of additional power. "We are proud of the strong relationships we have developed in Greece, and the role that our technology continues to play in helping the country address its energy security and environmental challenges," said Ricardo Cordoba, president of GE Energy Western Europe & North Africa.
GE's contract for the new Megalopolis project includes the supply of two Frame 9FB gas turbines, one GE D11 steam turbine, three 330H generators and some additional services. Commercial operation is expected in the fourth quarter of 2012.
The plant will have a net output of more than 800 megawatts and will be one of the region's most efficient power generation stations. GE's Frame 9FB is one of the world's most advanced, air-cooled 50-hertz gas turbines, offering operating flexibility along with high efficiency and reliability. To date, 52 of these gas turbines have been installed or committed for power plant projects around the globe. The 9FB is the largest member of GE's fleet of F-class gas turbines, which has compiled more than 30 million hours of commercial service worldwide.
All press releases & statements can be found on our press room
http://uk.geenergyeurope-pressroom.com/
About GE
GE is an advanced technology, services and finance company taking on the world's toughest challenges. Dedicated to innovation in energy, health, transportation and infrastructure, GE operates in more than 100 countries and employs about 300,000 people worldwide. For more information, visit the company's Web site at http://www.ge.com.
GE also serves the energy sector by providing technology and service solutions that are based on a commitment to quality and innovation. The company continues to invest in new technology solutions and grow through strategic acquisitions to strengthen its local presence and better serve customers around the world. The businesses that comprise GE Energy http://www.ge.com/energy - GE Power & Water, GE Energy Services and GE Oil & Gas - work together with more than 90,000 global employees and 2010 revenues of $38 billion, to provide integrated product and service solutions in all areas of the energy industry including coal, oil, natural gas and nuclear energy; renewable resources such as water, wind, solar and biogas; as well as other alternative fuels and new grid modernization technologies to meet 21st century energy needs.
For more information, contact:
Frank Farnel
GE Energy
+33 6 18 42 20 67
Nicole Jung
Hopscotch Europe In One
+44 (0)208 1333140
###