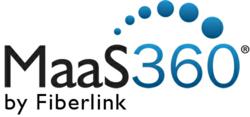 Blue Bell, Pa. (PRWEB) April 20, 2011
Fiberlink®, the Mobility-as-a-Service company, today announced that its MaaS360® mobile device management platform has been selected as a finalist for the prestigious 2011 CODiE Awards in two categories: Best Asset Management Solution and Best Mobile Operations Management Solution. The CODiE Awards are presented by the Software & Information Industry Association (SIIA), the principal trade association for the software and digital content industry. As the trusted provider of mobility solutions, MaaS360 is already in use by 300 organizations globally to manage and secure their mobile devices.
MaaS360 enables CIOs to embrace the proliferation of smartphones and tablets in the enterprise and manage the consumerization of IT. Through its on-demand, cloud-based model, all of the necessary components for advanced mobile device management are included and fully integrated so deployment is quick and easy, without compromising on functionality or security. With MaaS360, organizations can gain better visibility into the enterprise-wide devices, lower the total cost of ownership for mobility investments and leverage a single platform for strategic mobile operations improvement.
"For more than 25 years, the CODiE Awards have shone a spotlight on the companies and products that are revolutionizing software, education technology and digital content," said Ken Wasch, president of SIIA. "What sets this program apart from all others is that the winners are selected by those who really know their stuff – whether they're tech executives, industry analysts or journalists. SIIA recruits leading software, digital content and education people to put each nominated product through an intensive review process. Fiberlink and all companies that survive the process and become a finalist can say unequivocally that they are producing one of the finest, most innovative products on the market."
For the second consecutive year, Fiberlink's platform has been honored as a CODiE finalist in the Business Software division. All CODiE finalists will be reviewed by members of SIIA, who will then select winners for each of the 26 categories. The winners will be announced at the 26th annual awards ceremony on May 25, 2011.
"Recognition in two CODiE award categories is a further validation of MaaS360's industry-leading position in the mobile device management market," said Neil Florio, vice president of Marketing at Fiberlink. "The CODiE awards salute extraordinary innovation and leadership, and it's an honor for MaaS360 to be recognized for its cloud-based lifecycle management of mobile devices and for the value it delivers to businesses."
MaaS360 was selected as one of 131 finalists. Nominated products underwent an intensive review by subject matter experts, analysts and journalists who selected finalists from various categories. To see a full list of finalists, visit http://www.siia.net/CODiEs/2011/finalists.asp.
About SIIA
The Software & Information Industry Association (SIIA) is the principal trade association for the software and digital content industry. SIIA provides global services in government relations, business development, corporate education and intellectual property protection to 500 leading software and information companies. For further information, visit http://www.siia.net.
About Fiberlink
Fiberlink®, the leader in mobile device management is the creator and developer of cloud-based Mobility as a Service (MaaS) solutions. The company's MaaS360 platform enables IT to manage laptops, desktops and smartphones, such as the Android and iPhone, as well as tablet devices such as the iPad, in one window, one system. The company's MaaS360 mobility infrastructure and subscription services have revolutionized how enterprises and business users share and secure information over the Internet. The MaaS360 platform ensures reliable, secure and compliant mobile working for employees, while delivering unprecedented Mobility Intelligence™ to senior management and IT operations. MaaS360 is a recognized leader in mobile device management, helping both Global 2000 companies and smaller businesses cost-effectively support expanding mobile workforces and use mobile devices to remain competitive in today's economy. Additional information about MaaS360 is available at http://www.maas360.com.
© 2011 MaaS360 and the MaaS360 logo are trademarks of MaaS360 and may be registered in certain jurisdictions. All other brand names are trademarks of their respective partners.
###