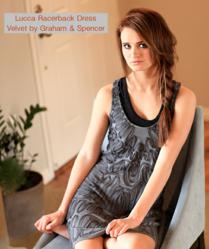 The upgraded website is based on who customers are, what they want to get out of shopping and how they can learn and share their experiences.
Denver, CO (PRWEB) April 21, 2011
Vintage Fringe has a new attitude to match their newly redesigned site. Vintagefringe.com is highly focused on the overall user experience. The new site does what a shopping experience should do. It makes you feel special. The upgraded website is based on who customers are, what they want to get out of shopping and how they can learn and share their experiences.
When you access the redeveloped site, there is now a distinctive and charming boutique vibe. Every customer can enjoy more personalized shopping by creating or logging in to their existing account. The reward points system, referred to as Fringe Benefits, is ongoing as it allows customers to become eligible to receive a free Vintage Fringe t-shirt with any purchase. Fringe Benefits also include reward points that can be earned every time you shop.
Vintage Fringe offers unique, high quality clothing and accessories to shoppers with any eye for style and discerning taste. The priority of vintagefringe.com is to provide shoppers with an inspired boutique-like experience with a warm and engaging feel. By the end of April, customers can view Vintage Fringe's brand new virtual lookbook. With this lookbook, customers will get a better visual idea of upcoming fashion trends and ensemble ideas for any body type, season, activity or event. When shopping online, sometimes it can be difficult to determine how something will fit on you. The revamped site makes this easier by allowing customers to view more pieces on actual models, giving a better idea of the size, cut and fit of each piece. To view clothing in even more detail, all you need to do is hover over an item with your mouse and let the automatic zoom in function do the rest.
Through the efforts of Krista Warnick, owner of Vintage Fringe, the site now offers several ways for customers to find what they are looking for more efficiently. The reorganized vintagefringe.com lets customers search for clothing and accessories based on new categories. Not only can you search for dresses and tops, but you can also search based on general looks like indie and fashion statement clothing. When preparing for a specific season, customers can search the spring and summer clothing categories as well. The spruced up site prominently repositions the designer label categories so that customers can easily search for the designer brands they crave.
Shopping at vintagefringe.com no longer ends at checkout. Shoppers can extend their experience by becoming involved in the Vintage Fringe community. Anytime you refer a friend, you can get a gift certificate. Customers can also help to inspire others with their fashion expertise by sending in fan photos of them wearing Vintage Fringe pieces. Customers that submit photos can receive a $10 coupon code to use on their next purchase. As always, engaged customers can get more informed by reading the fashion blog and those who join the mailing list are rewarded with updates and discounts. To enjoy shopping on a more intimate level, visit the online clothing boutique vintagefringe.com today.
# # #