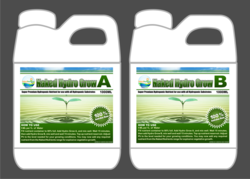 This product is up there with the likes of Canna and House & Garden, but what makes it brilliant is that it is 100% Aussie owned
Australia, Melbourne, Victoria (PRWEB) April 20, 2011
Currently, the majority of the nutrients available in Australia are imported or foreign owned, and are not made to suit Australia's water conditions, hence the EC and PH levels jump out in a matter of hours. Naked Nutrients seems to have solved this problem by using pure, Australian made ingredients that are tested for their quality before being incorporated into the incredible blends. The quality of the ingredients used is higher than those used in the leading hydroponic nutrient brands, hence a better final result.
Prestige Hydroponics, an online hydroponics distributor is now exclusively offering this premium nutrient formulation to their customers; before the product officially hits shelves throughout Australia. So what makes Naked Nutrients stand out in the crowded nutrient market in Australia? Frank of Naked Nutrients explains; "Naked Nutrients is made with ingredients sourced entirely from Australian suppliers. Naked is a 100% Australian owned and operated company, so the profits aren't leaving this beautiful land of ours. We can offer the best price in the market because we keep our production costs low by removing unnecessary overheads and costly advertising campaigns other companies use to sell their products. We pass on these savings directly to our customers".
Naked Nutrients offer a broad range of products such as Naked CoCo A&B, Naked Hydro Grow A&B Naked Hydro Bloom A&B, Super Naked Roots, Naked Uptake, Naked Mega Bulk, Naked Power Zyme, Naked Emergency and Big Naked Buds. The majority of hydroponic nutrient consumers in Australia are either Commercial Growers or Hobbyists. In this day and age of global warming, more and more people are turning to hydroponics for a consistent food supply all year round. Marcus, a hobby grower is one of the first to trial Naked Nutrients; he says "I have seen some of my best yields since I started trialing the Naked Nutrients product range. This product is up there with the likes of Canna and House & Garden, but what makes it brilliant is that it is 100% Aussie owned, not to mention the Ph level of my reservoir has never been so spot on in years". Many independent hydroponic nutrient analysts have already given their thumbs up for the Naked Nutrients product range.
The future of the hydroponic world relies on companies like Naked Nutrients, companies that are involved in the hydroponics industry day and night, and know exactly what the growers really want.
If people want to purchase this product prior to it taking the hydroponic industry by storm (and possibly selling out within a matter of weeks), Prestige Hydroponics (an online store) is the only place you can buy it until it's official release on May 20th 2011.
Finally, Aussies (and the rest of the world) can begin to see massive high yielding crops due to the hard work of the Naked Nutrients team.
For more information (or to stock this product in your own store, including stockists located in Europe, Canada, The USA, and Asia) please visit http://www.naked-nutrients.com
###