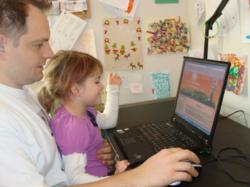 Teach your children that they are deeply connected to all of Life, that they are One with all people, and that they are never separate from God. Teach them this and you will have taught them grandly.
Neale Donald Walsch
Ashland, Oregon (PRWEB) April 21, 2011
Avid readers of the Conversations with God book series may now easily teach the principles of that body of work to their children, thanks to age-appropriate lessons made available at a new website: http://www.CWG4kids.com.
The educational site has been launched by New York Times best-selling author Neale Donald Walsch, who has written over 25 books on contemporary spirituality over the last 19 years. Creation of the site "will be welcome news for those among the 8 million purchasers of the books who wish to pass on the books' messages to their children and grandchildren," Laurie Lankins Farley, the school's director, said.
 
Walsch, recently named one of the 100 Most Spiritually Influential Living People by The Watkins Review (he was listed as #12), is founder of the School of the New Spirituality. "If I've heard one thing more than any other through the years since the 1995 publication of Conversations with God," he said, "it's that parents wish there was some way they could share these wonderful messages with their children."
 
Walsch said that because of this he created the CwG Online School, offering home schooling material that parents put together, progressively, using online lessons. "Each lesson is designed to bring the life-enhancing messages of CwG into the lives of children by stimulating the child's thoughts and imagination through words, pictures and sounds," the author explained.
"It was our aim to make the spiritual insights of Conversations with God understandable to children of all ages," Farley added. "CWG4kids is nonprofit and non-denominational and is open to all. Simply click onto http://www.CWG4kids.com and you can subscribe to and download lessons immediately."
The children's educational program, which Farley described as a long-time goal of Walsch, will post new content each month on the site, covering topics such as "Love is All There is," "There is Enough," and "We are All One."
"CWG4Kids.com is a beautiful, welcoming, interactive website intended to help the children of today interact with the world of tomorrow with contemporary spiritual ideas that can help them write a new cultural story for humanity and shape a marvelous future," Walsch said.
 
For More Information Contact Laurie Lankins Farley: cwg4kids(at)live(dot)com
Contact:
Laurie Lankins Farley
Director, School of the New Spirituality; Creative Director, CwG4Kids.com
Phone number: 503-997-1029
Email: cwg4kids(at)live(dot)com; Website: http://www.cwg4kids.com
###