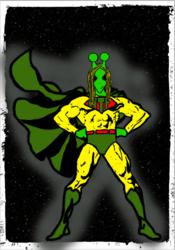 (PRWEB) April 26, 2011
Tiae Marks, the managing director of "What The Future Pty Ltd," has decided to put "Grid Galaxy," a revolutionary website builder, on eBay for one billion dollars. The 'Grid Galaxy' is thought to be the next internet phenomenon that allows anyone to build their own web site within hours. Is this young female way over her head or is she more than aware of its worth?
'Grid Galaxy' is a website building program designed so that anyone can develop their own professional web site without engaging consultants or webmasters, therefore enabling anyone the opportunity for further income generation without expensive outlay and unnecessary training and development time. Most businesses and individuals on average would spend thousands for an over-complicated web site.
Based on the 'keep it simple' principal, using a canvas 1000 px wide x 700 px high, Grid Galaxy concentrates on both the affiliates and visitors needs by removing all unnecessary complications, making it easy to develop, update and retrieve information.
Grid Galaxy is currently launching a $420 AUD 'space tax' campaign where a limited 2,500 customers will receive their own Grid Galaxy having the opportunity to generate revenue through an affiliate program that enables anyone to make 20% from each grid galaxy bought through their individual custom affiliate link.
The Grid Galaxy is bringing online social media to the next level. On just one page, the 'Grid Galaxy' website creates an interactive environment that encourages regular visits and communication through Facebook, twitter, YouTube, RSS and the like.
Media stunt or not, Ms. Marks has now opened the gates of professional web building to the non-computer savvy, enabling the everyday person to generate income through effective marketing and affiliate marketing.
Is Grid Galaxy worth one billion dollars? Regardless, it is safe to say that people all over the planet will benefit by having a grid galaxy and we will be keeping an extremely close eye on "What The Future Pty Ltd" and Ms. Marks.
Tiae marks testimonial: "The Grid Galaxy is an amazing program. It is the future of website design. It's easy, organized, affordable and completely customisable, encouraging the use of social networking; guaranteed to 'get you on the grid.'"
Find out more about grid galaxy
http://wtfbrisbane.com/gridgalaxyhandbook
###