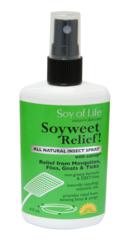 I took this product camping with my family to Vermont and we were the only ones that did not get bit by mosquitoes, while everyone else that used those commercial products loaded with chemicals did. Jean - Whole Foods Market W. Hartford, CT
Plymouth, MA (PRWEB) April 27, 2011
Spring is finally here and Summer is just around the corner. That means the return of beautiful weather and staying outdoors longer for backyard bar-b-ques, boating, the beach or pool, golf as well as other sports and activities. It's the favorite time of year for many people, however it's also the time when the insects return in full force. It's not fun trying to eat corn on the cob or trying to sink that 30 ft putt, while swatting away the mosquitoes at the same time. It's also not fun or safe spraying yourself with toxic chemicals. Thankfully there's a highly effective and all natural alternative called Soyweet Relief Insect Spray from Soy of life.
Keep bugs at bay the natural way. Naturally Repelling...Soyweet Relief Insect Spray from Soy of Life nature's skincare is a safe and effective means of deterring insects. A 100% natural, chemical–free and non-toxic alternative that uses the naturally repelling properties of specific essential oils to stop insects from biting. One of the essential oils is Catnip Oil, which according to a 2001 Iowa State University College of Agriculture study, is said to be 10 times more effective than DEET. We take nature's finest insect deterrents and combine them with skin loving botanicals to give you a skin softener, antiseptic and insect spray all-in-one. The natural qualities of this product can also help to soothe existing bites, and its antiseptic properties can help prevent infection.
Soyweet Relief Insect Spray is great for kids too. Kids like it because it has a fresh lemony scent, and everyone likes it because of it's non-greasy formula, which doesn't leave that tacky feeling on your skin.
So the next time you're about to enjoy your perfectly grilled hamburgers in your backyard with your family and freinds, spray yourself first with Soyweet Relief Insect Spray for hours of relief from having to swat away at those nasty little bugs.
###