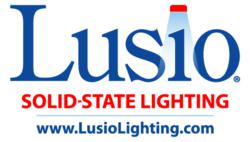 "One of the best thought-out high-bays seen to date." - PIA Judge
Overland Park, KS (PRWEB) April 21, 2011
Fixtures from Lusio Solid-State Lighting, a worldwide brand and division of LightWild, have been named the top high bay products in the solid-state lighting market as designated by the Platinum Award in Architectural SSL magazine's annual Product Innovation Awards, the company announced today. The winners, named in the April issue, were released earlier this week and will be presented their awards during the LightFair International trade show in May in Philadelphia.
"The awards were a first step to sort through the myriad of SSL and LED product that's hit the market in the past couple of years," said Jim Crockett, editorial director of Architectural SSL magazine. "Through a comprehensive questionnaire, and with the help of our expert judges, we're confident the products honored will give specifiers of SSL a great starting point in investigating robust and energy-efficient products that they'll hopefully be able to use on their projects."
Architectural SSL magazine is focused on the development, application, specification and design-merit of LEDs and solid-state lighting throughout the built environment. The magazine took into consideration several key data points about the platinum award winning Lusio SSL high bay fixtures including the color rendering index (CRI), correlated color temperature (CCT), luminous efficacy, L70 lifetime expectancy, UL Certification, and the 7-year warranty. One judge's comments considered Lusio "one of the best thought-out high-bays seen to date."
"The Lusio product line is a completely original and unique SSL fixture design that does not mimic the previous fluorescent or HID forms," said Tom Stafford, President and CEO of LightWild and Lusio Solid-State Lighting. "We are pleased the judges recognized these innovations with the platinum award and that they see the future in high bay lighting as positively evolving from what has been seen in the past."
The platinum award-winning high bay fixtures are part of the Lusio Solid-State Lighting family that includes 80 models and five light distributions tailored to commercial and industrial facilities that utilize high bay, low bay, and aisle lighting fixtures.
About Lusio Solid-State Lighting
Lusio delivers a new experience in commercial and industrial lighting with fixtures that provide quiet, super-clean lighting with lumens that meet or exceed traditional legacy fluorescent and metal halide lighting sources. Mercury free, low maintenance and dimmable, Lusio offers a 35-70% energy savings through a direct replacement of HID and fluorescent fixtures and are backed by an industry leading 7-year warranty.
Made in the USA, Lusio fixtures are built with top-quality materials including low glare reflectors, sophisticated heat sinks for superior thermal management, premium LEDs, and robust housings that are comprised of up to 80% recycled aluminum. Long lifetimes and thorough testing, including UL certifications and DesignLights Consortium (DLC) approved models, makes Lusio a wise choice when sustainability and quality are critical factors in warehouses, retail floors, showrooms, convention centers, laboratories, high-ceiling office spaces, transportation terminals, manufacturing plants, arena concourses and other commercial and industrial applications.
Lusio is a worldwide brand and registered trademark of LightWild. Learn more about Lusio Solid-State Lighting at http://www.LusioLighting.com.
About The Architectural SSL Product Innovation Awards (PIA)
The Architectural SSL Product Innovation Awards (PIA) determine and honor the best LED/ solid-state luminaires and fixtures on the market, while also recognizing the companies behind the components that make up these light sources. The PIA program also recognizes leaders in categories ranging from those conducting cutting-edge R+D, to those helping in the development of standards as well as those pushing to make solid-state lighting a truly sustainable technology.
Construction Business Media, headquartered in Chicago, IL is publisher of Architectural Products, Illuminate and Architectural SSL magazines. The company also operates the ArchLED Conference, markets and partners in TheContinuingArchitect.com educational platform, and maintains websites and electronic extensions of its print publications.
# # #