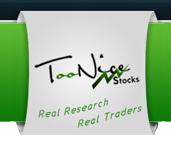 The company plans to submit a new drug application (NDA) with a requested priority review to the Food and Drug Administration (FDA) in second quarter 2011.
New York, NY (PRWEB) April 27, 2011
TooNiceStocks research has found that Talon Therapeutics is poised for major breakthroughs with their patented drug Marqibo. Marqibo is a nanoparticle encapsulated cancer therapeutic. This unique technology enhances efficacy while reducing toxicity. Current indication is for adults with Philadelphia chromosome (Ph) negative acute lymphoblastic leukemia (ALL) in second relapse/refractory or that has progressed following two or more prior lines of anti-leukemia therapy, with the potential to expand to other ALL and indications. The company plans to submit a new drug application (NDA) with a requested priority review to the Food and Drug Administration (FDA) in second quarter 2011.
TooNiceStocks research into ALL concluded relapsed/refractory patients' prognosis remained poor. Standard treatments in relapsed/refractory adult ALL are limited due to residual toxicity from prior treatments. Third-line treatments induce few responses while producing high toxicity. And fourth-line and beyond treatments rarely induce further responses but encumbered with toxicity, saturated by prior treatments. This leads to an unmet medical need and Marqibo has the potential to fulfill this criteria.
Digging Deeper into the the product and its future potential.
Marqibo consist of vincristine sulfate encapsulated in the aqueous core of proprietary, sphingomyelin-based liposome called Optisomes. Vincristine sulfate is a FDA approved cancer therapeutic in treating ALL. However, the usage of Optisomes with vincristine sulfate provides additional benefits; vincristine sulfate can be delivered at higher dosage, better targeted and penetration, and lower toxicity.
TooNiceStocks found that Talon's Phase II RALLY study concluded Marqibo demonstrated enhanced efficacy compared to standard treatment. 65 patients were administered with Marqibro as third, fourth or fifth line treatment. Of those, 35% overall response rate and 20% complete response rate was observed. Furthermore, 62% of complete response patients had a longer duration response compared to their most recent treatment. During one week of Marqibo treatment 63% of evaluable patients had complete clearance of all leukemic evidence from their blood. Finally, a response was also observed in patients' infiltrated with leukemia in their organs showing a reversal of organ dysfunction and achieving complete response, an indication of Marqibo potency against adult ALL.
The combination of limited effective therapeutic agents against relapsed/refractory adult ALL, using a FDA approved cancer therapeutic with Optisomes, minimal safety, well tolerated and impressive results will position Talon to expect a priority review. If a priority review is granted, Talon will initiate a confirmatory Phase III trial of Marqibo in ALL. Talon's cash in hand of approximately ~$22 million will be sufficient to conduct the trials through end of 2011.
TooNiceStocks in-house biotech resident stated, "an approval of Marqibo is very likely due to its dramatic improvement of a well known cancer therapeutic and because vincristine is already FDA approved, the hurdles are already significantly diminished." Talon is conducting clinical trials using their Optisomes encapsulation system with various anti-cancer agents as well as expanding Marqibos' indications. An approval of Marqibo will validate its technology and help potentially tap into a +$4 billion potential market. With technicals registering a bullish trend, outstanding shares of only 21 million and numerous upcoming catalysts, biotech smallcap investors are surely paying attention to Talon Therapeutics. Remember this is the market and anything can happen.
Thanks,
http://www.TooNiceStocks.com
"Finding Value in the Undervalued"
About TooNiceStocks.com - Sign up now for FREE weekly research reports. We work hard in researching promising companies in all exchanges. Please add or follow us for daily chatter. Become a PREMIER VIP MEMBER now. Real Investors + Real Research.
TooNiceStocks.com in no way has been compensated for advertising, marketing or profiling Talon Therapeutics Inc., rather we have initiated our own independent research. The data stated in our research article is derived from publicly disseminated information. None of the profiles issued by TooNiceStocks.com, constitutes a recommendation for any investor to purchase or sell any particular security or that any security is suitable for any investor as these are our opinions. Any investor should determine whether a particular security is suitable based on the investor's objectives, other securities holdings, financial situation needs, and tax status. Examples presented on TooNiceStock.com website are for educational purposes only. Such set-ups are not solicitations of any order to buy or sell. Accordingly, you should not rely solely on the Information in making any investment. Rather, you should use the Information only as a starting point for doing additional independent research in order to allow you to form your own opinion regarding investments. Please note well that TooNiceStocks.com employees are not Registered as an Investment Advisor in any jurisdiction whatsoever. Full disclaimer can be read http://www.toonicestocks.com.
###