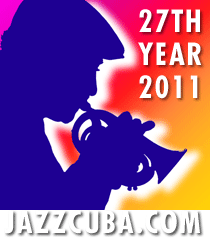 "We worked hand-in-glove with Cuban cultural organizations to create stellar nine-day sojourn for Americans to experience the famed Havana Jazz Festival, plus witness many aspects of authentic Cuban culture," says Tour Organizer Graciella Quiñones.
Blaine, WA (PRWEB) April 21, 2011
The 2011 Official Havana International Jazz Festival Tour set for December 11 to 19 was announced this week by Cuba Education Tours. The 27th anniversary jazz festival junket includes a nine-day stay at the five star Hotel National de Cuba on Havana's swank Malecón oceanfront. This is the fifth year Cuba Education Tours has hosted the Cuban jazz celebration trip. Festival president, jazz titan, and five time Latin Grammy Award winner Chucho Valdés, and the Cuban Institute of Music endorse the tour.
The ultimate Havana jazz festival and Cuba culture dream tour is how Leonardo Hechavarría describes the hallmark program his organization has sponsored for five years running.
"We took our most popular Cuba tour and changed everything for the better now that Americans can visit Cuba legally," says Hechavarría, a Cuban born tour planner for Cuba Education Tours. "Music and culture rule on this tour."
"We dropped costs by hundreds of dollars so regular Americans can afford to join. We upgraded accommodations to the historic five star Hotel Nacional de Cuba. We introduced lots of art, history, and nature components and added significant Afrocuban content.
"The tour is nearly all-inclusive. The food is super and level of services and activities extensive," states Hechavarría.
There's plenty new in the 2011 Official Havana International Jazz Festival Tour.
"We worked hand-in-glove with Cuban cultural organizations to create a nine-day sojourn for Americans to experience the famed Latin jazz festival, plus witness many aspects of authentic Cuban culture," explains Tour Organizer Graciella Quiñones. She too hails from Cuba and works tirelessly to introduce Americans to her beloved homeland.
"We've gone the extra mile for Americans to experience Cuba now that it is possible to do so. Guests will dine with the 'Picasso of the Caribbean' José Fuster in his whimsical studio. We'll visit Cuba's top arts university, intimately explore Afrocuban communities to learn how their vibrant culture resonates island-wide. We'll imbibe in fabulous Cuban dance shows from the Cabaret Parisién to the renowned Conjunto Folklórico Nacional de Cuba."
The program is filled to the brim with activities morning, noon and eve. "The tour program pulsates in the same way the Havana Jazz Festival is a hot throbbing gala," says Marcel Hatch, Cuba Education Tours president.
"We've orchestrated an opportunity for Americans to get to know the island intimately in a brief period, economically."
"Most of our travelers are from the States, so we added many itinerary items that emphasize the close historic and culture bonds shared. For instance, we'll visit the house of literary genius Ernest Hemingway. We'll dine at his favorite cafe La Bodeguita del Medio, birthplace of the tasty cocktail called mojito."
This year's guests will take in visits to four museums dedicated to Cuban art and Afrocuban culture. They'll enjoy dance lessons taught by Cuban pros. They'll explore nature reserves and urban organic gardens. But the thrust remains an incredible four nights of sizzling Latin jazz.
"What makes my work rewarding is that each tour guest returns home with new Cuban friends, memories for a lifetime, and enduring connections with tourmates," enthuses Hatch.
All tour participants get a new Gold All-Access Jazz Festival pass issued by the Jazz Festival organizing committee.
Cuba Education Tours ensures safe island travel. Participants enjoy the services of a full-time guide together with a dedicated coach chauffeur. Its island staff is fluent in English and well versed in history, music and culture. They are eager to answer all questions candidly.
Cuba Education Tours' new Concierge Cubano Five Star Service means Americans have access to cash and all other needs while abroad. The service is unique and ensures USA Cuba visitors are not left hanging.
A fully elaborated day-by-day itinerary for the Havana International Jazz Festival Tour is on the web at JazzCuba.com
This year, Cuba Education Tours is offering custom 2011 Havana Jazz Festival tours for private groups of eight or more. The organization's website has a quick link to request tailored Cuba programs.
About Cuba Education Tours: Established in 1997, the organization is staffed by Cubans, Americans and Canadians who help schools, business, religious and community groups visit Cuba on education, culture, nature and history tours. Cuba Education Tours is recognized on the island as a foremost North American concern promoting friendship and understanding. It's standing is impeccable and reputation peerless.
# # #