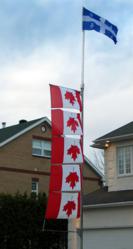 Madame Garas says, "Now my children face and an impossible choice imposed upon them by the Canadian government: to either to choose their Canadian citizenship, education, friends and way of life….or to choose life with me in exile from their country."
Lorraine,Québec (PRWEB) April 22, 2011
Following the article in the Journal de Montreal, April 19, 2011, Mr. Chamas stated that he has demanded a full retraction of what he believes are false and defamatory statements.
In response to several new events including a seizure on March 24, 2011 at the residence by the CRA of all the valuables in the house, and the pending deportation of the family, the family has erected a flagpole and hung 5 Canadian Flags upside down under a Quebec flag.
The 5 Canadian Flags symbolize the 5 family members in the residence who are in distress.The family residence has been under seizure by the Canadian government since July 2006; and the lien by the CRA has increased to $1,800,000 as of March 24, 2011, even though the file is still in objections (CRA File No. ITA-7785-06) and no decision has been rendered. The wife of Mr.Chamas, Brigitte Garas, a French national whose application for Canadian Permanent Residency has been denied, is facing deportation. According to Garas, "The government appears to be grossly insensitive and my family has reached a new level of despair with the de facto deportation of the children; all three, whose ages are 15, 10, and 3, who are Canadian citizens."
According to Mr.Chamas, "In this particular case, the government has not given a plausible reason for their decision." The governing Conservative government had, in fact in 2006, given Madame Garas a ministerial permit to stay in the country while her application under Humanitarian and Compassionate grounds was processed. This permit was renewed 2 additional times; then in March 2011, without warning according to Mr. Chamas, Madame Garas received a notice that she was being expelled from the country, that the permit was revoked and the permanent residency application was denied. Madame Garas was infuriated as she had to surrender her French passport, in 2009, and stated that she feels like she is being held in Canada as a "political prisoner awaiting exile"; if she leaves she will not be able return; and her lawyers began the process of appealing all the decisions through the Federal Court in Montreal, (Case No. 34122636, IMM-1823-10) with no success.
Meanwhile, Madame Garas has continued to raise her children and be an active part of her community. Madame Garas ran in her first marathon last fall has been active in her children's schools while continuing her integration into Quebec and Canadian societies. Madame Garas says, "Now my children face and an impossible choice imposed upon them by the Canadian government: to either to choose their Canadian citizenship, Education, friends and way of life….or to choose life with me in exile from their country."
###