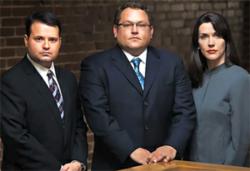 although we got our start in Texas offering Houston insurance attorney services among others, our representation of policyholders is not limited to Texas alone
Houston, TX (PRWEB) April 21, 2011
Partner in the Byrd Law Firm, Jason Byrd, recently announced the firm's intent to go national. While primarily known for Houston insurance attorney services as well as a plethora of other offerings, the firm has decided that they are well equipped to handle more than the Houston population.
A spokesman from the firm clarified by saying that "although we got our start in Texas offering Houston insurance attorney services among others, our representation of policyholders is not limited to Texas alone."
His reasoning? "We have the ability to help policyholders throughout the United States. Collectively, we have insurance attorney's who are licensed in 5 states and maintain strong relationships with other lawyers in other states whom we can work with on a case by case basis."
He concluded by assuring that whether clients were "from Texas, Oklahoma, Louisiana, Arkansas, Mississippi or anywhere else in the country--we can help you with your claim."
Not surprisingly, this announcement comes soon after partner Jason Byrd was inducted into the Million Dollar Advocates Forum. This distinction not only put him on par with the nation's most elite lawyers, but also gave him access to a very deep network of skilled insurance attorneys.
For more information on retaining a Houston insurance attorney or one anywhere else in the United States, please visit txbyrd.com.
About the Byrd Law Firm
The Byrd Law Firm is led by renowned Houston insurance attorney, Jason Byrd. He has been successfully practicing law for many years and started his own firm in 2005. Since then, he has been representing common everyday people in their struggles against corporations and others who seek to prey upon them. For more information on the firm, one may call 1-888-616-2973. They also have plenty of information on their website at http://www.txbyrd.com.
###