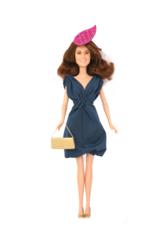 Arklu is known for attention to detail, so I'm sure the wedding costumes will be exquisite real life replicas of what Kate and William actually wear on the big day.
Northampton, England (PRWEB) April 21, 2011
Stephen Church, managing director of Royal Wedding collectibles retailer Church's China, reports that Arklu, Ltd., makers of the highly sought after Princess Catherine Engagement Doll, will also be releasing Will and Kate dolls in their official wedding clothes.
Church says, "To my mind, this pair will have an even greater appeal than the Princess Catherine Doll. Arklu is known for attention to detail, so I'm sure the wedding costumes will be exquisite real life replicas of what Kate and William actually wear on the big day."
Church has already pre-ordered 500 of the 10,000-piece limited edition collectible dolls, which will be available in early summer. Customers can pre-order the pair by contacting The U.K. Gift Company, the online sales division of Church's China, at reservations@theukgiftcompany.com. Pricing has yet to be announced.
Meanwhile, Church's China and The U.K. Gift Company have been overwhelmed by customer response to the limited edition Princess Catherine Engagement Doll that became available just last week. Church says he has sold out of all but 35 of the dolls. Only 10,000 of the Limited Edition Princess Catherine Engagement Dolls have been made.
Church adds, "The orders just keep coming in. This is a really popular item, particularly in America. One U.S.-based customer ordered six of the dolls!"
Church attributes the popularity of the doll to Kate Middleton's emerging role as a world fashion icon. Appropriately, the doll itself is adorned with the work of seven of Britain's hottest fashion designers.
The Princess Catherine Engagement Doll stands approximately 12 inches in height and retails for $48.96 at http://www.theukgiftcompany.com, the online sales division of Church's China.
She is decked out in designer fashions from her headpiece down to her shoes. Her royal blue silk Jersey dress, resembling the now-famous frock Kate wore when announcing her engagement to Prince William, was created by made-to-order cocktail dress designer Pussy Willow. She carries a representation of the Aspinal of London-made Eaton Clutch bag owned by Kate Middleton.
Her cubic zirconia-encircled amethyst ring is a replica of the life-sized "Io" ring created by internationally-recognized jewelry designer Babette Wasserman. Beatrix Ong, one of London's most acclaimed young shoe designers, created the doll's shoes. The doll's distinctive fascinator-style hat is the concept of milliner to the stars Katherine Elizabeth.
However, the appeal of this collector's item goes beyond high fashion. Church adds, "What our customers really appreciate about this particular piece of Royal Wedding memorabilia is that part of the proceeds will benefit Help for Heroes, an organization that is serving a very critical purpose given the current level of conflict in the Middle East."
Approximately $1.70 from every sale will be donated to Help for Heroes, a British charity launched in 2007 to aid wounded servicemen and women returning from Afghanistan, Iraq and other areas of the world where war exists. Prince William is one of the charity's supporters.
Established in 1858, Church's China sells a wide range of china and other collectibles. Specializing in royal commemorative memorabilia, the company has locations in Northampton and Market Harborough, England as well as an online division, The U.K. Gift Company. The UK Gift Company was recently nominated as one of five finalists in the "Best Online Retailer" category of the 2011 Great Awards, which celebrate the best in gift retailing in the U.K.
For more information, visit http://www.theukgiftcompany.com.
Media Note: If you would like to arrange for a telephone interview with Stephen Church, please contact Nancy Marshall at nmarshall@marshallpr.com or Jennifer Boes at jboes@marshallpr.com. If you are interested, please follow up with Nancy or Jennifer at the emails above.
Editor's Note: Click on the link below in order to access a downloadable version of photo.
http://www.marshallpr.com/apc/photos/releases_925_1_o.jpg
# # #