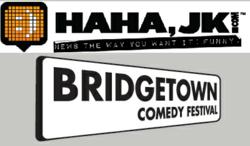 Portland, Oregon (PRWEB) April 20, 2011
The hilarious online humor based news site, HAHAJK.com, co-owned by comedian/actor Jamie Kennedy and leading online marketing company Engage:BDR, is proud to sponsor the 2011 Bridgetown Comedy Festival in Portland, Oregon April 21st-24th.
The comedy festival will take place over four days and is filled to the brim with amazing television personalities, national headliners, and talented up-and-comers. Featured acts include Margaret Cho (The Cho Show, Assassin), Andy Dick (The Ben Stiller Show), Fred Armisen (Portlandia, SNL), Kristen Schaal (Flight of the Concords, Hot Tub), Doug Benson (Super High Me), HAHAJK.com Editor in Chief and comedian Tony Sam (G4's Attack of the Show) as well as over 150 other amazing performers that have been featured on Comedy Central, MTV, Late-Night Talk shows and a multitude of television programs.
In addition to live stand-up performances, there will be short films, live podcasts, and variety shows that will feature something for everyone. The events will take place in one of six different Portland venues along the Hawthorne Blvd strip including the historic Bagdad Theater, The Mt. Tabor Theater, The Hawthorne Theater, The Bar of the Gods, East Portland Eagle's Lodge, and Tanker. (Venue locations, the complete performance schedule, and show times can be found at http://www.bridgetowncomedyfestival.com).
HAHAJK.com, which features side-splittingly funny articles and videos that skewer the news is proud to sponsor the event and provide Portland with the nations top comedic performers and exposing them to the hilarious content of the website with a fully interactive booth, and photo center set up at the Bagdad Theater throughout the festival to allow attendees to browse the website's amazingly funny content. HAHAJK.com will have teams at each location giving away stickers, T-shirts, and several other giveaways during the events four day run.
Shows begin Thursday April 21st and run through Sunday April 24th. Tickets range from $10-25, or multiple day festival passes can be purchased at http://www.bridgetowncomedyfestival.com.
###