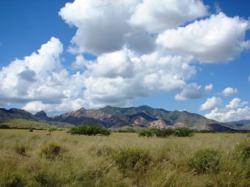 Camino Real Land Corporation is offering every advantage to buyers of these rare foreclosure properties the moment they hit the market...
Sunsites, AZ (PRWEB) April 22, 2011
Benefiting from a great deal on foreclosures does not have to require bank financing, clean-up of ramshackle homes, or looking for renters and buyers. Foreclosures can happen to land owners as well. And stepping into their shoes couldn't be simpler.
As a Better Business Bureau-approved company with a long history of success, Camino Real Land Company has always offered its buyers the best rates and the most favorable terms. However, today's economic challenges are creating an unprecedented opportunity for potential land owners.
"The interest in our foreclosure properties has been so aggressive that we developed a separate website, http://www.ForeclosurePropertiesArizona.com, just to display our current offerings," Ricardo Pomar says. "In some cases, a property may only be available online for a matter of hours before it is sold."
Camino Real Land Corporation is offering every advantage to buyers of these rare foreclosure properties the moment they hit the market. "We offer a low 5.9% financing rate on these lots, along with a guarantee of complete satisfaction," Pomar says. "Buyers have six months to inspect their purchase with a company representative or we will happily refund their money. They have everything to gain and nothing to lose. One of our recent buyers cashed in on a $16,000 savings in payments that had already been made on two premier view lots in the community of Sunsites. Smart buyers are taking over payments, saving thousands of dollars, and enjoying instant equity. If they want to pay in cash, they receive another deep discount!"
Camino Real Land Corporation also runs periodic sales and special pricing on similar new view lots at SunsitesLandRush.com. Whether they buy discounted new lots or foreclosures, buyers choose from one-acre lots near the master-planned community of Sunsites or sweeping 2.5-acre rural ranch lots within a 20-minute drive from Sunsites. Breathtaking scenery and a pristine environment combine with the world's most ideal year-round climate: an elevation of 4,800 feet with low humidity and abundant sunshine.
Sunsites is a master-planned community with an 18-hole championship golf course and a full array of urban amenities just an hour's drive from Tucson International Airport. In contrast to Arizona's lower elevation environments, the Sunsites area claims one of the nation's finest climates with four colorful but mild seasons and abundant sunshine at an elevation of 4,800 feet.
Southeast Arizona is internationally known as a recreational paradise for everyone from rock climbers and spelunkers to bird-watchers, hikers, cyclists, naturalists, photographers, hunters, campers, backpackers, and equestrians. The master-planned golf community of Sunsites is situated like the hub of a wheel, surrounded by parks, national monuments and tourist attractions. The famous Kartchner Caverns, the Arizona Wine Trail, U-pick farms, guest ranches, the arts colony of Bisbee, and the legendary town of Tombstone with its Boothill are all just a short drive from Sunsites.
According to Pomar, only 17% of the land in the beautiful state of Arizona is even available for private ownership. In the past few years, he has seen special-interest groups gobbling up huge tracts of land in Southeast Arizona for everything from vineyards to conservation land and even a private community just for astronomers. "Before long, this area of affordable, young land will go the way of longer-developed communities that are surrounded by natural beauty like Sedona, Prescott and Flagstaff," he says. It's no surprise that the interest in foreclosures and sale-priced land has reached an all-time high.
###