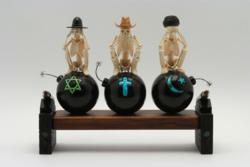 Miami, FL (PRWEB) April 21, 2011
The secret is out. Now, whether you live in the U.S. or Europe, Asia or the Emirates, J.W. Cooper, renowned purveyor of the most unusual, one-of-a-kind collectible accessories for men and women, and artistic carvings, is at your fingertips. The niche retailer, also revered as the market leader in luxury boots, belts and buckles, has created a whole new world for aficionados of the original to enjoy J.W. Cooper.
A carefully curated exhibition of contemporary, one-of-a-kind and custom-designed accessories, collectibles and art is now easily accessed through its newly expanded and redesigned website, http://www.jwcooper.com. While stepping inside the J.W. Cooper flagship boutique at Bal Harbour Shops in Bal Harbour, Florida, or its New York City store at The Shops at Columbus Circle is an original experience, visitors to the virtual boutique will also become immersed in the world of J.W. Cooper.
Imaginative stories and original content dig into the origins of the brand's most exciting works and craftsmen, as well as the story of J.W. Cooper itself. Developed by Rm2 Project, Inc., a Miami-based web marketing firm, the site also puts the user in control, is easy to navigate, and allows simple yet secure purchasing options. Most importantly, it allows visitors to see materials showcased in its accessories, collectibles and art, and the artisanship of the pieces, which has always made J.W. Cooper a genuine stand out.
"Every item we carry is a work of art and becomes a part of its owner, whether it's a hand-carved belt buckle, a piece of rare turquoise jewelry or a one-of-a-kind carving crafted from fossilized walrus tusk, 50 million-year-old amber, Polish jet and sapphire," says Todd Rauchwerger, CEO of J.W. Cooper. "From the first purchase, a collector is born. These are pieces that have been appreciated by our clients for years, and why they make our collectible carvings, belts, buckles, jewelry and other accessories part of their lifestyle."
The virtual boutique has a design that keeps consistent with the company's brand mission – to constantly surprise its clientele, those who desire to own or give something that no one else has. The J.W. Cooper virtual boutique will captivate audiences with its enticing, exciting and dynamic new venue.
"This website captures that element of surprise we strongly value and that our clients seek, making this the perfect online companion for our stores. Our frequent updates will showcase pieces that you won't find in any other retail store, and we'll share with our visitors lively stories behind the pieces and so much more," says Rauchwerger.
Rich, original content unveils what's truly spectacular about owning a piece from J.W. Cooper. No other luxury retailer offers resources of this magnitude in a number of design forms: belts, buckles, fashion accessories for men and women, and even carved sculptures. Yet, there are clean and classic items to satisfy any taste with pieces crafted from smooth skins and precious and semiprecious metals and gemstones, including 18-karat gold, sterling silver, diamonds, rubies and sapphires.
"As visitors peel back layer upon layer of the site, they will realize truly what J.W. Cooper is all about, and its ability to be the source for some of the most exceptional luxury fashion goods not found anywhere else -- one piece at a time."
Of course, those who discover the virtual world of J.W. Cooper will be able to join the J.W. Cooper collectible community by becoming a fan of J.W. Cooper on Facebook and following updates on Twitter at JWCOOPERBUCKLES.
"With the influence of social media being a necessity in today's business world and with so many new applications at the user's fingertips, I believed it was time to have our wearable and collectible art become available to those individuals who have yet to discover us. The source of inspiration for J.W. Cooper is not only our artists and designers, but discerning individuals who crave all that is enlightening, original and undeniably remarkable," says Rauchwerger.
About J.W. Cooper
For more than 30 years, J.W. Cooper has been surprising its loyal clientele. Having redefined the men's and women's accessory market with its luxury belt and buckle collection (offering more than 250 styles), J.W. Cooper is renowned for its niche merchandise mix of handmade, one-of-a-kind contemporary accessories, collectibles and custom items. Furthermore, the retailer represents unique lines of limited production by modern luxury brands such as ElfCraft, William Henry Studio and King Baby Studio.
To experience and shop the J.W. Cooper virtual boutique, please visit http://www.jwcooper.com. For additional information: 800.643.5773 or jwcooperbh(at)jwcooper(dot)com. Fan J.W. Cooper on Facebook. Follow JWCOOPERBUCKLES on Twitter.
For media inquiries, please contact Tammy Kollinger at RM2 Project at 305.921.9691 or email to: mailto:tammy(at)rm2project(dot)com.
###