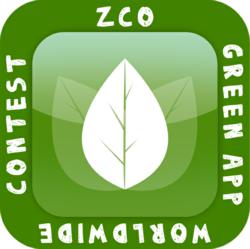 (PRWEB) April 22, 2011
On this Earth Day, 2011, Zco Corporation has announced it will sponsor a $250,000 Zco Green App Worldwide Contest for secondary school students. The contest will encourage teams of students, with guidance from their teachers, to come up with smartphone app ideas that will benefit the earth and the environment in a substantial way. The contest will be open to schools worldwide.
The Zco Green App Worldwide Contest has two primary goals:

Help the environment by leveraging smartphone users worldwide
Make the younger generation environmentally conscious and active
There are hundreds of millions of smartphone users worldwide, and, by some reports, this number will exceed one billion by 2014. The universal ubiquity of these devices, and their users, gives the ability to monitor, record and communicate from every nook and corner of the earth, and possibly beyond. By marshaling this resource, there is possibility, for the first time, to attack some of the intractable environmental problems that the earth is facing now in ways that have never been thought of before.
The first and probably the most important prerequisite for creating a great "green app" is a great green app idea. For this, the contest will leverage the half a billion secondary school students in the world and their boundless energy and ingenuity. Student teams will work under the guidance of their teachers to create and submit their app ideas.
Using the student population will not only generate great app ideas but also fulfill the second goal of the contest to make the younger generation environmentally conscious and active.
Once students come up with a great app idea, the next step is to create apps that will run on various smartphone platforms such as iPhone, Android, Windows Phone, BlackBerry, etc. This is where Zco Corporation comes in. Zco will use its mobile software development expertise and engineering resources to develop the app. It will donate $250,000 worth of engineering services for this purpose.
It is possible that other environmentally responsible organizations may fund additional development beyond Zco's contributions.
Once the app is created, it will be turned over to a willing non-profit organization for distribution through various app stores and its ongoing management. It is possible that the revenues generated by the app through in-app advertisements can help defray some of the maintenance costs.
The official contest site is http://www.zco.com/zcogreenapp, which will provide additional information as they are implemented such as timelines, contest rules and collaboration facilities.
About Zco Corporation
Founded in 1989, Zco Corporation is one of the largest custom mobile development companies in the world. Zco offers services for industrial strength back-end applications utilizing .Net, Java, PHP and ColdFusion, as well as custom apps for all major mobile platforms including iPhone, iPad, Android, BlackBerry, Windows Phone 7 and more. Additionally, Zco offers services in Digital Marketing, Search Engine Optimization, 3D Animations and Games. For more information, please visit http://www.zco.com, speak to a representative at 603.881.9200 or follow us on Facebook or Twitter (@ZcoCorporation).
# # #