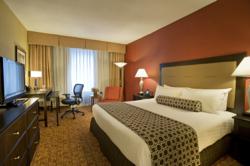 the pull-out trays in the nightstands are awesome and perfect for keeping a laptop next to the bed. Otherwise you would have to put it on the floor and worry about stepping on it or clear off the entire night stand
McLean, Virginia (PRWEB) April 26, 2011
The Crowne Plaza Tysons Corner hotel, located in McLean, Virginia, has just completed a guestroom renovation that has transformed their northern Virginia hotel in to a more functional and contemporary property that is geared ideally for the modern day traveler. The technology-focused upgrades in the guestrooms were designed to accommodate the growing use of multi-media devices among travelers. Some of the new enhancements include:

Oversized work desk with multi-use movable side table which gives the traveler over 75% more work space, and is perfect for use as a dining table
Unique, luxury 'secretary' night stand that has a convenient, laptop-sized pull-out tray allowing for additional table-top space, as well the perfect rest place for laptop computers, iPads, tablets, and other media devices
State-of-the-art Apple iHome docking stations for all models of iPods and with high-definition sound system
These new guestroom finishes and technologies have been in place for a few weeks, but are already making a difference in their guest satisfaction scores. These upgrades have been very well-received by their guests, in fact, a recent guest, Faith Hickey comments, "the pull-out trays in the nightstands are awesome and perfect for keeping a laptop next to the bed. Otherwise you would have to put it on the floor and worry about stepping on it or clear off the entire night stand."
Along with this significant guest room renovation, the Crowne Plaza Tysons Corner has also transitioned to now be a completely non- smoking northern Virginia hotel.
And lastly, even though the Crowne Plaza Tysons Corner has been a pet-friendly hotel in northern Virginia for quite some time, pet enthusiast travelers will be happy to know that the hotel has recently enhanced their pet policy. Now at the Crowne Plaza Tysons Corner, when a guest checks in with a pet, their pet is also treated like a guest and receives a small gift bag amenity designed specifically for them. The Crowne Plaza Tysons Corner is the only one of many hotels in McLean, Virginia that has designated guest rooms for guests with pets, all of which are located on the first floor making it easy for the pets to go outdoors to use the facilities. In addition, the hotel has partnered with Dogtopia, a northern Virginia dog daycare and boarding service, to provide additional services for their four-legged guests.
At a recent manager-hosted reception at the hotel, guests were asked their opinion of the hotel's new features and the renovation. Long-time frequent guest, Matt Leach, replied, "The new additions are great!" As a hotel that prides itself on unparalleled customer service, the Crowne Plaza Tysons Corner has proven itself to be one of the top hotels in northern Virginia, which is clearly evidenced by their TripAdvisor ratings.
About WashDCHotels.com
Based in Bethesda, MD, WashDCHotels.com is a DC destination and tourismsite for the B. F. Saul Company Hotel Division, a subset of a larger, private real estate firm, B. F. Saul Company. Within the Hotel Division the company represents a collection of full service, select service, and extended stay hotels located in MD, VA, MI and FL. WashDChotels.com serves both business and leisure guests seeking first class DC hotel accommodations, Washington, D.C. area meeting facilities, and banquet venues. The company also operates two IACC Certified Northern Virginia Executive Conference & Training Centers. To learn more about the B. F. Saul Company Hotel Division go to http://www.bfsaulhotels.com.
# # #