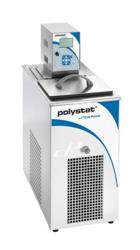 Vernon Hills, Ill. (PRWEB) April 21, 2011
Cole-Parmer® Polystat® circulating baths and immersion circulators offer excellent temperature stability for a range of laboratory applications. Cole-Parmer has redesigned and updated its line to offer even more versatile models, including:
High-stability Polystat Heating Immersion Circulators provide temperature control up to 200°C and inlet/outlet connections for circulation to external open- or closed-loops. They feature PID control with an easy-to-use LCD (0.01° resolution) and programmability in three languages and up to five temperature set points. Choose from units with clamp for side-tank attachment or with a bridge to span the tank.
Polystat Open Heating Circulating Baths offer an economical alternative to stainless steel baths. Operated by a two-speed pump with adjustable nozzle, they contain plumbed inlet/outlet connections for external loops. Their bright digital display enables more precise control and their high-temperature cutoff protects samples and equipment. Select from acrylic or PPO tank styles, in volumes up to 21 liters.
For more demanding applications, choose the rugged Polystat Stainless Steel Heating Circulating Baths. They offer performance while remaining budget-friendly. Easy to use, they feature a moisture-tight LCD, which measures in Celsius, Fahrenheit, or Kelvin scales. Driven by a two-speed pump, these units are available in standard or advanced models. The advanced model includes a force/suction pump with up to 21-liter capacity. Both types include safety features such as high-temperature cutoff and acoustic alarms.
For broad temperature ranges from -35 to 200°C, Polystat Cooling/Heating Circulating Baths include a powerful refrigeration system. They provide exceptional heat load removal across a range of operating temperatures. Their two-speed industrial-grade circulating pump runs up to 21 L/min flow and delivers extra pressure for more efficient heat exchange, better temperature uniformity, and enhanced reservoir agitation. These baths are available in standard digital or advanced digital models.
To find out more about any of these models, call 800-323-4340 or visit ColeParmer.com/8469.
Cole-Parmer has been a leading global source of laboratory and industrial fluid handling products, instrumentation, equipment, and supplies since 1955. Our product lines, including popular brand names such as Masterflex®, Oakton®, and more, are sold through company-owned customer channel outlets and a strong network of international dealers. We also feature an ISO-17025-accredited metrology lab for instrument calibration and repair. Cole-Parmer responds with excellence to customer needs, and offers application expertise and technical support. For more information, contact Cole-Parmer, 625 East Bunker Court, Vernon Hills, IL 60061. In the U.S., call 800-323-4340. International customers, call 847-549-7600. Visit us at http://www.coleparmer.com.
# # #