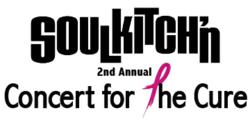 We are happy to set the goal of $5,000 for this year's donation and hope to exceed it!
Columbus, OH (PRWEB) April 22, 2011
The 2nd annual Soul Kitch'n Presents Concert for the Cure will be held on Friday, April 29, 2011 from 7:00pm – 11:30pm in The Grand Valley Dale Ballroom, Columbus, Ohio. Back by popular demand, this local concert event will feature musical performances, donated by The Tim Perdue Quartet, The Midwest Dissenters and will be headlined by local band Soul Kitch'n. The evening will also include raffle prizes, hors d'oeurves and a cash bar. Tickets are $25 and may be purchased at any upcoming Soul Kitch'n performance (see website for performance schedule) or by visiting the Soul Kitch'n website (http://www.soulkitchn.com) for further event information. All proceeds from the concert will be donated to the Soul Kitch'n Komen Columbus Concert for the Cure team.
The 2010 Soul Kitch'n Concert for the Cure team donated over $6,200 to the 2010 Komen Columbus Race for the Cure event making them one of the top 10 fundraising teams. "Our 2010 goal was $3,000 and we raised over $6,000. We are happy to set the goal of $5,000 for this year and hope to exceed it," said Victoria Bordner, Lead Singer of Soul Kitch'n and breast cancer survivor.
Victoria Bordner is a breast cancer survivor and the lead singer and manager of the local cover band, Soul Kitch'n. Victoria finds herself in a unique position to give a voice to a cause that she has become passionate about – the fight to end breast cancer. She was diagnosed on Valentine's Day 2008, had a mastectomy on April 20, 2008 and ran in her first Race for the Cure 26 days later. This year, she hopes to make an even bigger impact.
# # #