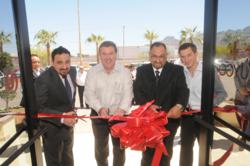 Companies around the world competed for the Gamma contract…Jyco Guaymas won. The parts that we make here will be shipped to every corner of the globe.
Sonora, Mexico (PRWEB) April 21, 2011
Jyco Sealing Technologies officially welcomed hundreds of government officials, business partners, employees and their families to the Tier 1 automotive supplier's newly expanded manufacturing plant in Guaymas, Mexico last week. The facility, which specializes in thermoplastic vulcanizate (TPV) weathersealing systems for automobiles, SUVs and light trucks, also houses engineering and sales support for Jyco's operations throughout Latin America.
Addressing the crowd of 250 that attended the opening ceremony and plant tour, Jyco founder and CEO Sam Jyawook traced the operation's precipitous growth over the past four years.
"When we started manufacturing here in 2007, we had four employees and we were shipping 500 parts per week," said Mr. Jyawook. " Today we have 156 people here, and we are shipping 50,000 parts per week. By the end of 2011, we will have 224 employees, and we will be shipping 100,000 parts per week around the world."
The highly automated 36,000 SF operation doubles the size of the original plant. The ISO/TS16949 Certified facility now operates six injection molding cells and four TPV extrusion lines. Jyco plans to have a fifth extrusion line operational by the end of the year.
Production at Guaymas will focus primarily on a Jyco contract with General Motors. Mr. Jyawook used the occasion to tell the crowd that Jyco has been awarded the contract for TPV sealing systems for GM's Gamma programs of fuel-efficient small family cars and sport utility vehicles.
"Companies around the world competed for the Gamma contract. We won. Specifically, Jyco Guaymas won," Jyawook told the audience at the ribbon-cutting ceremony. "The parts that we make here will be shipped to every corner of the globe. To Michigan in the north. To Brazil and Colombia in the south. To Europe and the Mideast in the east. To China, Korea and Thailand in the west."
Joining Mr. Jyawook and Jyco chief operating officer Shawn Jyawook on the podium were Ing. Francisco Búrquez, Copreson; Paulo Villedent Molina on behalf of Ing. César Lizárraga Hernández, Presidente Municipal; Lic. Carlos M. Espriú, Vicepresidente Operaciones, MTK; Lic. Armando Lee, Director General MTK; and Eduardo Saavedra, Director Mercadotecnia Offshore.
Since its founding in 2000, Jyco has established itself as a world leader in TPV design, engineering and process technology for automotive, heavy truck and RV weathersealing applications. In addition to its Latin American facilities, the company has operations in Canada, China, Japan and the United States. Jyco's global headquarters is in Ann Arbor, Michigan.
###