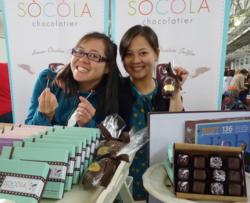 "Unique chocolates come with great stories ..."
Palo Alto, Calif. (PRWEB) April 20, 2011
Chocolate Banquet's April Chocolate Challenge involved a hunt for the most unusual and successful flavors in a new chocolate truffle. Chocolate has been successfully blended with almost every edible substance, including bacon, fish and cheese. But, chocolate artisans continue to outdo themselves.
"Chocolate Banquet challenged chocolate vendors, who were busy sharing their offerings with hundreds of eager chocolate samplers at the San Francisco International Chocolate Salon, to show us their creative side. Chocolates were carefully gathered, sampled and evaluated at this popular event; and winners were announced today," explained Chocolate Banquet owner, Corinne C. DeBra.
Unique chocolates come with great stories behind them. The April 2011 Challenge winners for most unique flavor combinations in a truffle, listed below, are no exception.
San Francisco-based winner, Socola Chocolatier, caught our attention with their King of Fruits Durian Easter Egg, and Durian Truffles - dark chocolates filled with a white chocolate ganache, and flavored with the unusual tropical fruit. (Socola's new spicy, Sriracha "Flying Rooster" truffle also was under consideration for the Challenge, and will be reviewed later on Chocolate Banquet.)
Socola's Chief Chocolatier, Wendy Lieu, described how creative, new flavors come to life. "Most of our chocolate flavor ideas come from inspirations while traveling (guava), or dares by friends (Notorious H.O.G.). For durian, I didn't need to travel far. The inspiration comes from my childhood. I can still remember the aromatic, delicious stench of my father cracking the spiky fruit open after a joyous day-long family gathering filled with food & karaoke into the late night. It's the king of our dessert hearts in Vietnam."
"Vice Chocolates (Oakland, CA), was a 2010 Chocolate Banquet Award winner for their 'Slayer' truffle with garlic, so I-LI Brice at Vice was already on our radar as someone who was creating interesting flavors," noted Chocolate Banquet chief taster, Corinne C. DeBra. Vice's newest Sadako green matcha tea and yuzu truffle (named after a character in the Japanese movie, Ring), received praise for its subtle and artful layering of two very different flavors.
Our last finalist was Amano Artisan Chocolate (Orem, UT). Amano co-founder Art Pollard offered samples of the company's Yemeni Sidr Honey Truffles. "These complex, earthy, honey-flavored truffles were an immediate hit, and quickly disappeared, so we felt fortunate to be able to obtain one for inclusion in the Challenge," continued DeBra.
Chocolate Challenge Finalists will automatically be considered for Chocolate Banquet's (2011) Annual Awards -- announced each January for the previous year. Chocolate Challenges happen twice a year, and categories are selected by Chocolate Banquet. A list of Chocolate Banquet Award Winners for this past year (2010), can be found at http://www.chocolatebanquet.com, in the Chocolate Banquet Awards section.
The San Francisco International Chocolate Salon (http://www.sfchocolatesalon.com) was sponsored and organized by TasteTV. TasteTV events include other chocolate salons in major U.S. cities, such as Los Angeles, Boston, and Chicago.
About Chocolate Banquet
Chocolate Banquet is a blog and website with chocolate-related content -- most notably, the site has featured a different chocolate each day for more than 1,600 days. Corinne C. DeBra, who manages the site, accepted a bet in September 2006 to eat a different "Chocolate of the Day" for a year. Initial doubts about whether there were 365 different chocolates in existence were quickly dispelled. With an estimated 10,000 different chocolates available globally -- there should be new and different chocolates for many years to come. Chocolate Banquet is based in Palo Alto, California.
###