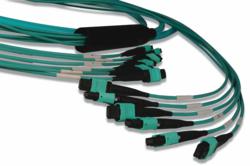 Siemon's plug and play fiber margins help ensure compliant performance levels, even in light of field cleanliness issues and test uncertainty.
Watertown, CT (PRWEB) April 20, 2011
Siemon, a leading global manufacturer of IT network cabling and infrastructure systems, today announced that its MTP-based OM4 and OM3 plug and play fiber optic cable assembly products have passed key IEC and TIA/EIA performance testing. The test results showed strong performance margins to the 10Gb/s and 40/100Gb/s limits currently covered by the standards. Performed by Experior Laboratories, a leading independent, third party testing facility, these tests confirm that Siemon's 40 Gb/s and 100Gb/s-ready plug and play assemblies exceed the standards' strict insertion loss and endface geometry requirements with margins up to 60%.
"Extended performance margins are particularly important in high-bandwidth multi-fiber array systems like Siemon's 40Gb/s and 100Gb/s-ready MTP plug and play line," explained Charlie Maynard, Siemon Fiber Optic Product Manager. "Contamination introduced in the field as well as testing inconsistencies due to varied test equipment and reference cord quality can make it difficult to ensure that the consistent performance levels of factory-terminated fiber assemblies are maintained when installed in the field. Siemon's plug and play margins help ensure compliant performance levels, even in light of field cleanliness issues and test uncertainty."
The independent testing was performed across multiple channel configurations that included Siemon MTP-to-MTP cable assemblies in both OM4 and OM3 fiber grades; MTP-to-LC plug and play modules; MTP-to-LC fiber jumpers; LC fiber jumpers and MTP-to-MTP adapter plates. All Siemon product and channel configurations passed their respective insertion and return loss tests, which were performed according to the latest IEC 61280-4-1 Edition 2 and TIA/EIA-455-171A testing standards.
These latest IEC and TIA/EIA testing procedures use new Encircled Flux methods, which limit the negative impact of variable launch conditions on the accuracy of multimode fiber insertion and return loss test results. Encircled flux compliance reduces test variability by up to 75% versus the previous test methods, ensuring more accurate results and helping eliminate false pass results that can degrade overall network performance. The more accurate encircled flux methods indicated significant performance margins for all Siemon product tested.
In addition, all Siemon MTP connectors passed IEC 61300-3-30 Ed 1.0 testing for performance critical fiber endface geometry.
"Along with extensive testing at Siemon Labs, this independent confirmation of our plug and play fiber system's performance margins further strengthens Siemon's leadership in high performance, data center-ready cabling solutions," explained Robert Carlson, Siemon's VP of Global Marketing. "Our comprehensive line allows us to offer our data center customers the cabling solution that best fits their needs, from 40Gb/s and 100Gb/s-ready Plug and Play fiber systems, to 10Gb/s UTP, F/UTP and fully shielded twisted-pair copper systems to our SFP+, QSFP+ copper and fiber high-speed interconnect assemblies – all of which have been independently tested to exceed the standards."
For more information on Siemon's plug and play fiber optic cabling solutions, or to request test report summaries, please visit: http://www.siemon.com.
Follow Siemon on Twitter: http://twitter.com/siemoncabling/
Join Siemon on Facebook: http://www.siemon.com/go/facebook
About Siemon
Established in 1903, Siemon is an industry leader specializing in the manufacture and innovation of high quality, high-performance network cabling solutions. Headquartered in Connecticut, USA, with global offices, manufacturing and service partners throughout the world, Siemon offers the most comprehensive suite of copper (unshielded and shielded twisted-pair) category 5e, category 6 (Class E), category 6A (Class EA) and category 7/7A (Class F/FA), and multimode and singlemode optical fiber cabling systems available. With over 400 patents specific to structured cabling, from patch cords to patch panels, Siemon Labs invests heavily in R&D and development of industry standards, underlining the company's long-term commitment to its customers and the industry.
###