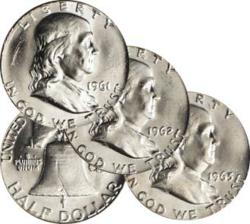 Montpelier, Vermont (PRWEB) April 22, 2011
It was the Mad Men era – 1961, 1962 and 1963 – and Franklin silver half dollars were being minted with no plans to stop. Then the unthinkable happened – the tragic loss of President Kennedy. Afterward, Congress acted quickly and authorized a 1964 Kennedy half dollar, preserving the final issue Franklin silver half dollars for posterity and collectors.
Forty-eight years later, it's collectors everywhere who have a wonderful opportunity to own this piece of history at the special price of just $59 – a 32% savings off ICCOIN's regular price of $87. However, this is a limited time offer. The offer ends May 4, 2011.
ICCOIN's Franklin silver half dollar set features the 1961-1963 final dates in Brilliant Uncirculated quality. View these beautiful Franklin half dollars online. The Franklin half dollar was designed by Mint Chief Engraver John R. Sinnock in the 1940s. Just over 480 million Franklin half dollars were minted between 1948-1963. However, millions of the coins were melted in the great silver melts of the 1960s.
Own this trio of silver coins at a 32% savings. Get the final three 1961, 1962 and 1963 Franklin silver half dollars in Brilliant Uncirculated condition for JUST $59! Order online at http://www.iccoin.com. Shipping charges apply. Again, this special offer expires May 4, 2011.
About ICCOIN
International Coins & Currency Inc. was founded in 1975 and over the years has proudly satisfied hundreds of thousands of collectors worldwide. With one of the largest mail-order and website coin selections anywhere, ICCOIN provides a world of coin collecting options, including international coins, classic and modern U.S. coins, and seldom-seen scarcities and fascinating oddities. Collectors can visit http://www.iccoin.com to buy foreign and U.S. coins online from ICCOIN's huge selection of competitively priced items. Committed to providing "the best service in the business," ICCOIN offers a 100% satisfaction guarantee on every item it sells, including coins, currency, supplies or other collectibles.
# # #