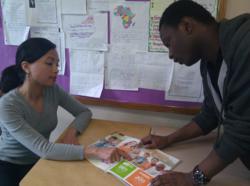 We needed money , and even McDonald's wasn't hiring,
Jamaica, NY (PRWEB) April 25, 2011
Hillcrest high school seniors and juniors, Zenetimi Datuowei, Saskia Gomez, and Adrian Alberga, were just average teens looking for work until a new idea called HALO Sani-CUFFS came up. "We needed money, and even McDonald's wasn't hiring, so we had to think of something," says Zenetimi (Timi). The three had been brought together the semester before by a teacher they had, Gregory Francois, who was also sort of an aspiring entrepreneur. They contacted him with their dilemma . He told them of an idea that his wife, a physician, had told him about. An idea that would help in the prevention of sickness and high fever in children. "We thought it was interesting, and we all were intrigued," Adrian says while completing a cartoon for a signature piece on the bands, called Bunny Blades. The trio was charged with the task of creating a look and feel for the products while at the same time researching how marketing, production, sales and distribution channels would take place.
"Mr. Francois, Mrs. Stiliano, Mr. Boothe and several other teachers guided us in telling us what we needed, then it was up to us to come up with the detailed structured plan," Saskia Gomez comments as she checks the weekly status of the page hits. This set in motion what two years and five students later has now become the HALO Sani- CUFFS: wristbands for kids that can store and dispense hand sanitizer. In between class time, (the three began this venture in their freshman year) and after school, from the library to the empty class room at the local community center, the students would meet to discuss the bands. Given that this product emerged at the height of the Silly Bandz craze, there was a plethora of information abound.
This is a product that was engineered using free CAD and design software found online. HALO sani-CUFFS were prototyped and produced, with funds from their teachers, by companies found in China, through a website called Alibaba.com. Now their product is being marketed through various marketing strategies including social media such as twitter and facebook, as well as an email marketing campaign.
"All the work that these students did was remarkable, and my wife and I knew we had to put our financial resources behind seeing this product succeed," says Mr. Francois. The couple set forth the initial monies and the rest of the funds were and still are acquired through crowd sourcing sites such as Rocket Hub. In the process of the development of the product the three learned a lot of what it took to take an idea from scratch and bring it to fruition, believing that one day soon they can duplicate what they have learned here. Mr. Francois and his colleagues are now set on the path of teaching these newly minted entrepreneurs the importance of protection of their idea (they have filed a non provisional patent), the fiscal responsibility and the management required to make a product and business successful. How it all turns out is anyone's guess, but in the short run "at least we finally got a job, and one where the learning doesn't stop. Who knows one day, with some of the kids that we know, we could turn around and be the ones that help them build a business!" exclaims Timi.
For more information about HALO Sani-CUFFS please contact gfrancois(at)armorteria(dot)com or visit http://www.armorteria.com.
# # #