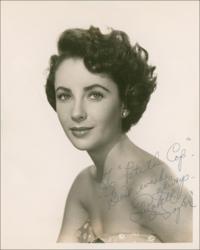 Amherst, NH (PRWEB) April 21, 2011
Tinseltown memories abound in the RR Auction Remarkable Vintage Hollywood Auction, a special, one-week event that starts May 12. Nearly 650 items—including single signed photographs, multi-signed items, checks, documents, props and more—will be featured.
Elizabeth Taylor is fondly remembered in a rare and unprecedented treasure trove of 66 love letters—each beautifully scripted by a starry-eyed 17-year-old actress to her first fiancé. Written in 1949 following a Florida encounter, they encompass not only the emotions surrounding her first love but also her youthful insecurities.
A cornerstone of the auction originates from the estate of Saul Goodman, who began getting photographs signed as a young man in the 1930s and who continued his pursuit into the 1970s. These spectacular single-signed vintage images—many of them studio publicity photographs amassed in an era when most fans were only collecting signatures in autograph albums—include a youthful Humphrey Bogart; Clark Gable and Cary Grant; an angelic Judy Garland; Carole Lombard; Errol Flynn, dating from his Robin Hood days; as well as Charlie Chaplin, Gary Cooper, Frank Morgan, Basil Rathbone and Spencer Tracy.
Other vintage signed images include a sultry pose of Marilyn Monroe; Charlie Chaplin relaxing in character as The Little Tramp; Bela Lugosi signing a photograph not with his own name but with that of his alter ego Count Dracula; Basil Rathbone as Sherlock Holmes; Marlon Brando from Guys and Dolls; another pose of Judy Garland, this time in character as Dorothy; and Bert Lahr as Oz's Cowardly Lion.
Also included are numerous autographed candid shots, hundreds of signatures of Hollywood's elite as they raise funds in the mid-1940s for the Motion Picture Relief Fund, a 1939 agreement securing Ingrid Bergman's services for Intermezzo (the film that made her a star overnight), a 1956 contract in which Lucy and Desi come to terms for the final season of their landmark I Love Lucy, Walt Disney's 1936 social security card, Hepburn's 1952 British driving permit, and a fantastic sketch of "The Little Tramp" drawn by none other than Chaplin himself.
Rounding out the star-studded catalog are a screen-worn Errol Flynn costume from the 1948 film Silver River, and Egyptian-style table props and wig stand from the 1963 epic Cleopatra.
This "extra" RR Auction event, which supplements the auction house's distinguished monthly auction schedule, ends on May 19. For information, visit the RR Auction web site at http://www.rrauction.com
Bobby Livingston of RR Auction has appeared on national/cable television, including The Today Show, Inside Edition, Extra and Entertainment Tonight and internationally in print and on radio stations across the globe.
To arrange an interview with Bobby Livingston, contact Mike Graff at 212.825.3210
or 203.807.2575.
About RR Auction
Established in 1976, RR Auction is known to collectors and dealers worldwide as the most respected auction source for guaranteed authentic autographs.
In 1983, while still a teenager, Bobby Livingston became the first hired employee of RR Auction when it was located in the basement of his cousin's home in Newton, Massachusetts. Later on, Livingston served as creative director of Virtual Solutions, an animation company in Naples, Florida, and as president of Shootz Production Group, a film and television production company in San Antonio. Realizing his love for the auction business, he then returned to RR Auction. After successfully rebranding the company as an independent consultant in 2008, he was appointed its Vice President of Sales and Marketing in January 2009. He takes pride in researching the historical impact of the items auctioned by the house. A charismatic public speaker, Livingston's vast auctioneering expertise has been featured on numerous television segments as well as in print publications and on the web.
###