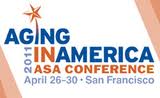 New York, NY (PRWEB) April 21, 2011
Caregiving is an unplanned experience which generally begins with the emergency phone call that a loved one has had fallen or had an accident. In many cases one family member takes charge of the coordinating all the care involved. Ideally, you want your family to act as a team but that is not always the case.
eCareDiary.com will lead a workshop entitled, "Strategies on Uniting Families Caring for an Aging Loved One" at the 2011 Aging in America Conference in San Francisco on Thursday, April 28 1:00-2:00pm Pacific time. The workshop will be located at the Parc 55 Wyndham Hotel in the Lombard room.
The workshop will address the challenges involved in getting families to act cohesively when caring for an ill or aging loved one and will provide practical advice on getting everyone to work together. It will examine family dynamics, caring from a distance and technology to assist caregivers and care recipients.
The workshop's panel of experts include: Sheila Warnock, co-author of Share the Care, an award-winning book offering a unique group approach that turns a circle of ordinary people into a powerful caregiving team; Laurie Orlov, founder of Aging in Place Technology Watch, a market research firm that provides thought leadership, analysis and guidance about technologies and related services that enable boomers and seniors to remain longer in their home of choice; and John Mills, Founder and CEO of eCareDiary.com, will act as both moderator and panel speaker.
Hosted by the American Society on Aging, the Aging in America Conference takes place April 26-30, 2011 in San Francisco, California at the Hilton San Francisco Union Square hotel. It is the nation's largest annual conference for professionals in the field of aging.
The workshop will be delivered by eCareDiary.com, a leading website for caregivers focusing on the daily management of eldercare. The site offers free tools, resources, and social media community. eCareDiary is also well known for its unique content including live video and radio shows, webinars, plus articles written by medical experts and eldercare professionals to help family caregivers navigate a process often found confusing, difficult and stressful. The site's goal is to empower caregivers to help them become better managers of their loved one's care.
About eCareDiary.com
eCareDiary.com brings together online tools, resources and the support of an online community to assist those who are caring for elderly patients. The site was founded by husband and wife, John Mills and Susan Baida who, despite decades of experience in the healthcare sector, found the task of coordinating care for their parents care uniquely and unnecessarily challenging. eCareDiary.com has been featured in The New York Times, The Wall Street Journal and was named a Silver Award Winner by The 2010 New Product & Technology Awards, an awards program that recognizes the world's best technologies, products and services for older adults and their families. eCareDiary is also in AARP.org as one of the "11 Technologies You'll Want Now" and winner of Today's Caregiver Magazine's 2010 Caregiver Friendly Award.
###