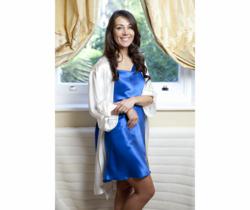 London, UK (PRWEB) April 22, 2011
With only one week to go, our heads are spinning with talk of what Kate Middleton's wedding dress will look like. But what about what she will wear while preparing for her big day, while lounging in the privacy of her home and out of the public eye? A silk robe perhaps?
It's a question that Melissa Pelz, and occasional Middleton double, has often contemplated. Pelz, an American living in London who also runs a women's silk loungewear, silk nightwear, and bridalwear brand called Ligne de Soie, has received so many "lookalike" comments from people over the past three years, that she recently started doing some acutal lookalike work, such as showing off royal memorabilia earlier this week on London's TV show This Morning.
"It's interesting that because I resemble Kate, people frequently ask me what I think of her style or what her wedding dress will look like, or what I wear while I am getting ready to 'become her.' While I think that overall she's got a simple, sleek, refined style, I'm mostly interested in what she wears out of the public eye, while lounging around in the privacy of her home. I always think it must be some sort of really luxurious loungewear – something to make her not just look like, but truly feel like a princess."
This thought inspired Pelz to launch the limited edition Ligne de Soie Royal Bridal Collection, including the Royal Sapphire Silk Nightdress and Royal Silk Dressing Gown, or the "Royal Robe" (seen posing in photo) as part of her Bridal Collection of silk robes and nightwear. This pure white silk robe with a matching royal blue sapphire sash and blue sapphire buttons that serve to pin up the sleeves, as well as the royal blue charmeuse silk nightdress reflect the simple, sporty, sleek body type and elegant, feminine look that Kate embraces and that Pelz, as designer, prefers.
Says Pelz, "the most beneficial aspect of being a lookalike is that I know that if a garment suits me, I know it will most certainly flatter Kate!" The beneficial news for you is that you don't have to be on Kate's diet to look good in the Ligne de Soie Royal Robe - this timeless, elegant garment will flatter all types of woman. Slipping into this sensual silk gown will make you feel like a princess come what may.
Order this perfect gift for that special bride-to-be in preparation for her special day or simply treat yourself to this silk robe and dress set so you can lounge in luxury and style while watching the royal wedding next week!
Available now at the Ligne de Soie online boutique or for free shipping, make your purchase on Ligne de Soie's Facebook Store.
# # #