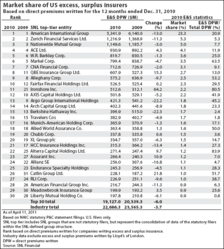 US insurers 'slimmed' their E&S writings 3.7% in 2010
(PRWEB) April 21, 2011
AIG tops SNL Financial's list of leading U.S. excess, surplus insurers for 2010.
Top 10 U.S. Excess, Surplus Insurers of 2010 by Market Share
Based on direct premiums written for the 12 months ended Dec. 31, 2010
1. American International Group
2. Zurich Financial Services Ltd.
3. Nationwide Mutual Group
4. ACE Ltd.
5. W.R. Berkley Corp.
6. Markel Corp.
7. CNA Financial Corp.
8. QBE Insurance Group Ltd.
9. Alleghany Corp.
10. Fairfax Financial Holdings Ltd.
Of the top five, ACE Ltd. was the only company with an increase in direct premiums written year over year. While U.S. E&S premiums were down at ACE unit Westchester Surplus Lines Insurance Co., falling to $408.7 million from $454.9 million, that decline was more than offset by a climb in Illinois Union Insurance Co.'s premiums, which rose to $522.2 million from $437.3 million.
Domiciled in Illinois, as the name suggests, Illinois Union falls under the ACE American Insurance Co. umbrella, along with Rain and Hail Insurance Service Inc. (the holding company for crop insurer Agri General Insurance Co.) and Pacific Employers Insurance Co., the latter the parent of Illinois Union. Of the states in which it writes, Illinois Union reported a particularly large increase in Florida, where direct premiums written jumped to $74.7 million from $25.8 million.
States with the Largest Amounts of E&S Premiums in 2010
Based on direct premiums written for 12 months ended Dec. 31, 2010
1. California
2. Florida
3. Texas
4. New York
5. Louisiana
6. Illinois
7. New Jersey
8. Pennsylvania
9. Massachusetts
10. Georgia
Overall, Florida remained one of the top states for E&S insurers, ranking second only to California, but like the broader industry, premiums written there were down from a year ago, falling roughly 7%. With the deadline for compliance with the Nonadmitted and Reinsurance Reform Act fast approaching, states are in the midst of deciding how they might share premium taxes on multi-state risks.
For additional information, contact Christina Twomey, SNL Financial Public Relations
434-951-6914 direct or by email.
# # #