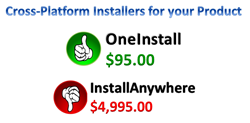 Flower Mound, TX (PRWEB) April 21, 2011
Genuitec, LLC, a founding member of the Eclipse Foundation, today announced the first webinar to introduce developers to OneInstall software distribution. OneInstall is a powerful, cross-platform software delivery and installation technology that is used by millions of customers worldwide in select distribution, but is now available to the public for the first time and is priced substantially lower than InstallShield or InstallAnywhere, starting at just $95.
Chances are if you had an excellent installation experience with large well-known technology companies, it was OneInstall doing the work.
Who: Tim Webb, chief architect for Genuitec's Pulse development team
What: How to Build Eclipse Installers
When: Tuesday, April 26 at 12:00 P.M. EDT (16:00 UTC)
Register here: https://www2.gotomeeting.com/register/253146771
In this one hour webinar, developers will learn how to quickly and easily create cross-platform (Windows, Mac, Linux) installers for Eclipse software products and rich client platform apps. Viewers will quickly understand that there is no need to spend thousands of dollars on InstallShield or InstallAnywhere or spend hours wrestling with a build-box now that OneInstall is commercially available.
OneInstall is currently used by Fortune 100 enterprises that deliver their software to millions of users and internal staff. Genuitec uses OneInstall to deliver both its MyEclipse and MobiOne product lines, where it has proved an unbreakable software delivery mechanism that behaves with a level of intelligence not found in other software distribution offerings.
To review case studies and white papers from Fortune 100 companies that rely on OneInstall to solve their software delivery and management needs please visit: http://www.poweredbypulse.com/pulse_resources.php
Developers can try for OneInstall for free by visiting: http://www.poweredbypulse.com/oneinstall.php
Users of the free version can rapidly test OneInstall with their actual software and see installers built in a matter of minutes that can be delivered to Windows, Mac OSX and Linux operating systems.
About Genuitec
Genuitec, LLC, is an Eclipse-based company offering innovative Java and J2EE development tools. Genuitec offers training and expert consulting and development services for the Eclipse SDK and Rich Client Platforms. An original sponsor of Eclipse Plug-in Central, Genuitec joined the Eclipse Foundation early in 2003 and is currently supporting Eclipse as a strategic member on the Foundation's board of directors. Genuitec LLC was founded in 1997 and is headquartered in Flower Mound, Texas.
Genuitec, Pulse, PoweredByPulse, and MyEclipse are trademarks of Genuitec, LLC. InstallShield and InstallAnywhere are registered trademarks of Flexera Software, Inc. All other brand or product names may be trademarks or registered trademarks of their respective companies and should be treated as such.
*Please follow the latest Pulse news by joining @PoweredByPulse on Twitter or MyEclipse on Facebook.
# #