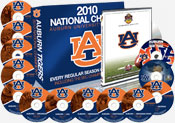 Auburn, AL (PRWEB) April 22, 2011
TCG Productions, along with XOS Digital and the University of Auburn, announced the release of Auburn's 2010 football season packaged in a DVD box set this past weekend at the annual "A-Day", Auburn's spring football game. The set includes every regular season win with an option to add the BCS national championship game.
From the phenomenal breakout performance of Heisman Trophy winning quarterback Cam Newton and Lombardi Trophy winner Nick Fairley right through to the National Championship game, this is a must have collector's item for any Auburn fanatic.
"Auburn University recognizes their perfect 14-0 season as historic. Their support in launching this has been tremendous. They want the Auburn faithful to relive this historic season on demand and this box set of all the games gives them that opportunity" said Sandy Seago, CEO, TCG Productions
The DVD set includes the never-give-up victory over Alabama in the Iron Bowl. Trailing 24-0, the Tigers roared back to win 28-27 in what may be the greatest game in the history of the storied rivalry. The set also includes the Tiger's win over South Carolina in the SEC Championship game--the win which propelled them to the BCS National Championship against Oregon.
Also available as part of the set, the Tigers 22-19 win over Oregon in Glendale. The game that touched off the celebration from Arizona all the way back to Toomer's Corner.
"When you think about the adversity this team had to overcome to be undefeated, it's unbelievable. From the last minute wins to the last second win in the BCS Championship game, this team made not only college football history, but Auburn football history. Whether it's for Father's Day, Mother's Day, Birthday or any day, this is a historical gift any Auburn fanatic will love to own," adds Seago.
Officially licensed by XOS Digital, the DVDs of each game are in standard definition (SD), free of any commercial interruption, and includes original commentary.
This Perfect Season DVD box is now available at http://www.wareagledvd.com after being released the weekend of Auburn's spring game, or 'A-Day' on April 16th 2011.
For more information, contact Chris Baker of TCG Productions at info(at)wareagledvd(dot)com
###