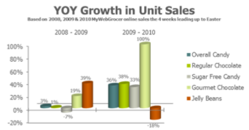 Colchester, VT (PRWEB) April 21, 2011
As expected, grocery stores across the US typically see a jump in chocolate and confectionery sales in the weeks leading up to the Easter holiday. Even when measured against these predicted increases, one category saw remarkable growth last season – gourmet chocolate.
MyWebGrocer, leading provider of online grocery services, examined the sales of various chocolate and candy categories four weeks prior to Easter in 2008, 2009 and 2010. Gourmet chocolate (defined by MyWebGrocer as chocolate that is priced at $1.25 per ounce or higher) saw both unit sales and sales dollars more than double in 2010 over the previous year.
Among the brands within the gourmet chocolate category that saw increases were Lindt, Vosges, Green & Blacks, Scharffen Berger, and See's Candies. With a March 2011 report from Bloomberg on a continued increase in consumer spending, it's likely that gourmet chocolatiers will again see a jump in sales at Easter this year.
About MyWebGrocer:
MyWebGrocer drives digital connections between consumers, grocery retailers, and Consumer Packaged Goods brands. MWG creates and manages digital solutions for clients including websites, digital media, online circulars, email marketing initiatives, mobile applications, social media strategies, and customer acquisition programs. MyWebGrocer works with more than 110 retailers nationally, representing more than 10,000 stores, and 90 major consumer packaged goods brands. The data reflected above was collected from users of MyWebGrocer's digital grocery platform four weeks preceding Easter in 2008, 2009 and 2010.
# # #