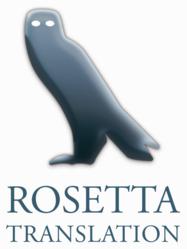 (PRWEB) April 22, 2011
London-based Rosetta Translation Ltd provides translation and interpreting services to corporate and individual clients alike. To ensure the continuing delivery of high quality and accurate translations they have provided since 2006 the translation company has published details on its website in a drive to complement its existing freelance database with specialist freelance translators and interpreters.
Although the leading translation service provider welcomes any applications, and regularly receives applications from freelancers with numerous language combinations and fields of expertise for this recent recruitment drive it has asked that potential candidates visit their website for their current requirements.
Due to recent standard and process reviews freelance recruitment has become more stringent. This not only allows the company to select the best and most reliable providers but it also allows them to pass on this reassurance to their clients who have come to associate the name of Rosetta Translation with quality and reliability.
Freelance recruitment and project manager Helen Fream has stated "We are happy to receive applications from freelancers who work within the spheres of translation, interpreting, transcription and DTP. Whilst we endeavour to assess every application we would ask that applicants check out our website or give us a call to see whether their skill set matches our current requirements. We would encourage freelancers to send us much supporting documentation as possible to enable us to have a clearer picture of each individual's merits". She also added "In most cases we will add you on to our database, or invite you for interview so that we can start creating a working relationship as soon as possible".
The translation agency deals with all types of document but does specialise in legal, financial, medical and technical texts for a range of clients worldwide. Freelancers who have a minimum of 3-5 years' experience in translation and/or their field of expertise are encouraged to email jobs(at)rosettatranslation(dot)com with their comprehensive application. The staff at Rosetta are especially keen to hear from interpreters based both in the UK and abroad as they have recently re-launched their interpreting service and are keen to complement the existing team of qualified freelance interpreters.
For more information about Rosetta Translation Ltd and their recruitment needs please visit the site http://www.rosettatranslation.com and click on the link 'Work with us'.
About Rosetta Translation:
Rosetta Translation provides a variety of language services in most world languages. Headquartered in London, the company primarily offers translation and interpreting in the business and commercial arenas to clients nationally and internationally.
###