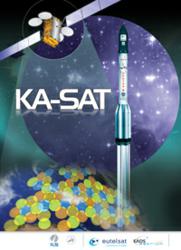 We are delighted to be working with Avonline to help bring our enhanced Tooway services to UK homes
(PRWEB) April 22, 2011
The commercial contract between Skylogic, Eutelsat Communications' broadband subsidiary, and Avonline will bring the next generation Tooway service to the UK via the KA-SAT satellite, providing increased speed, higher download volumes and more functionality.
KA-SAT, owned by Eutelsat, which was successfully launched back in December 2010, is the world's most powerful satellite with a total capacity of more than 70 Gbps. It is due to go into full service mid-2011 providing a Tooway satellite broadband service which will offer download speeds of up to 10 Mbps and uploads speeds of up to 4 Mbps.
Mark Wynn, Avonline's Managing Director, said, "Avonline has been at the forefront of UK satellite communication solutions for the past 10 years and we are delighted to be the first major UK satellite services provider to sign a contract for the next generation Tooway."
He continued, "This is great news for the 1 in 10 UK households who are currently unable to receive a 2 Mbps broadband connection, and especially for those living in rural areas who will now be able to take advantage of broadband services with similar speeds and prices to their urban counterparts."
Arduino Patacchini, CEO of Skylogic, said, "KA-SAT brings a new era of European satellite communication services which will challenge traditional perceptions about speeds and costs of satellite broadband services. We are delighted to be working with Avonline to help bring our enhanced Tooway services to UK homes."
With its plug and play connectivity, along with its fast download and upload speeds all currently costing less than £200 to install, Tooway is quickly becoming the preferred product that delivers fast, reliable, cost-effective broadband to every part of the UK. With satellite, there is no need to wait years for the major broadband providers who just talk about what services may be available to rural communities in the future.
There are 4 packages available, all providing the same download and upload speeds but with variable levels of data usage. In addition, the Tooway service has the ability to deliver voice over satellite telephony services (VoIP) as well as the added value option of receiving Freesat High Definition digital television services from the same satellite dish.
About Avonline Plc
Avonline plc is one of the UK's leading Installation and Business Services companies. Established in 1981, it has around 400 engineers providing broadband and digital services to customers around Europe. Avonline has a specialist division deploying broadband satellite solutions to provide a high speed networks supporting VPN, VoIP, video and broadband data and has been the UK'sd largest provider of Tooway services in the UK over the past 2 years. Avonline supports the Government's Digital Inclusion philosophy and the Race Online 2012 initiative of which they are a partner.
###