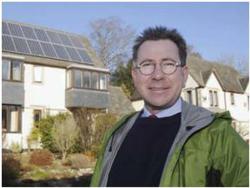 (PRWEB UK) 21 April 2011
South West ethical and green insurance provider, Naturesave Insurance, has been awarded the prestigious Queen's Award for Enterprise for Sustainable Development.
The Awards are made each year by The Queen, on the advice of the Prime Minister, who is assisted by an Advisory Committee that includes representatives of Government, industry, commerce, and the trade unions. There are three categories of award: international trade, innovation and sustainable development. The formal announcement of the winners are announced each year today on 21 April, The Queen's birthday. The Queen also invites winners to a reception at Buckingham Palace.
Naturesave Insurance has been an innovator and market leader in the ethical and green insurance market for 17 years. It is the UK's first and only specialist ethical insurance provider offering a range of innovative policies by which clients may protect both themselves and the environment.
In the award citation, Naturesave Insurance is described as, "an exemplar ethical insurance cover provider for individuals, companies, and the voluntary sector throughout the UK, which has set a clear benchmark for others within the insurance industry. Sustainability and ethical business practices are at the core of the company's commercial activities, with preferred treatment given to charities and not-for-profit organizations."
"Naturesave Insurance has taken an innovative approach to promoting sustainability and delivering benefits within the wider community through the Naturesave Trust (funded through the company's premiums) that gives grants to environmental, conservation, and community renewable energy projects throughout the UK." So far, £250,000 in grants have been awarded to projects that encourage the commercial adoption of sustainable development. The array of funded projects can be explored at http://www.naturesave.co.uk.
Naturesave also offers environmental audits. It rewards carbon offsetting on its commercial policies and energy-saving measures on its domestic policies. This year, the company launched the industry's first insurance policy covering domestic renewable systems as part of their standard household insurance.
Naturesave has become the preferred insurer of over thirty Transition Towns across the UK (including Totnes). It insures award-winning Grand Designs properties, and has been chosen to insure high profile events, including Nelson Mandela's 90th Birthday celebration and his "46664" charity.
Naturesave's founder and Managing Director, Matthew Criddle said: "We are absolutely thrilled to be recognised in this way. It shows that it really does pay to be genuinely green. It's an acknowledgement that, not only do our clients value our ethical approach but that, at the highest national level, society values innovative and meaningful ways to effect sustainable development."
Notes:

10% or premiums from Naturesave's household and travel policies go into the Naturesave Trust to provide grants for environmental, renewable energy, and conservation projects.
Criddle is critical of local authorities of local authorities implementation of environmental legislation. "We need to get on with this" he says, "Planning offices need more training on how to implement environmental legislation and Local Authorities need to start exchanging information on their experiences granting planning permission if they're ever to gain enough confidence to 'fast track' future applications. Once one house in a street has installed Solar PV, a neighbour will follow suit and so on, but councils need to kick-start this take-up of renewable energy sources by the general public if it is ever to happen."
Businesses that take out commercial policies are offered an advisor who will conduct a free environmental survey of their premises, and recommend how working practices could be made more energy efficient and environmentally-friendly.
The Naturesave Trust rewards carbon off-setting practice with grants, which are available to any Commercial Combined, material damage and liability policy holder who off-sets their carbon emissions. Discounts are offered to clients who are already making changes to their energy consumption.
Naturesave acts as a lobbying force, advising and influencing insurance companies on how they can encourage the adoption of sustainable practices.
History and Organization:
Naturesave was established in 1993 by insurance industry expert Matthew Criddle (ex-Lloyds of London) with the intent of using insurance as a vehicle for sustainable practice.

It is based in Totnes (one of the world's most famous transition and eco towns) and counts the Transition Town movement throughout the UK as an important client.
● The Naturesave Trust, its charity arm, has invested over £250,000 in environmental, conservation, and community renewable energy projects (see http://www.naturesave.co.uk)
● Naturesave offers a comprehensive range of insurance including: household and insurance policies, charity and not-for-profit insurance, liability and professional indemnity, engineering, marine, travel, and contractors insurance. "If clients ring us, we can tailor policies to suit most needs," says Matthew Criddle. "We are a specialist and bespoke insurance company and can offer competitive and flexible pricing."
● "Naturesave Insurance" is the trading style of Naturesave Policies Ltd, which is regulated by the Financial Services Authority
For further information please contact:
Simon Whittam @ Onshore Media
on: 01752 823414 or 078 0241 6420
Email: simonwhittam(at)weareonshore(dot)com
Or Dawn Bebe on07831 790416
dawnbebe(at)weareonshore(dot)com
# # #