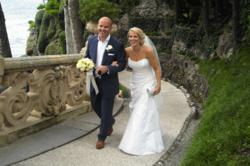 The recession has been tough for the wedding industry, but it hasn't stopped people getting married. Here at Sainsbury's magazine we know value for money is crucial and those personal DIY touches such as making your own cake mean a wedding everyone remembe
London (PRWEB UK) 21 April 2011
Out today, Sainsbury's magazine's wedding survey results show we love nothing more than a good British wedding, with 89% of respondents thrilled when an invitation pops through the letterbox.
We're a nation of romantics then? Not necessarily. Almost half are perhaps more cynically looking forward to eating and drinking at someone else's expense, and a bah-humbug 11% will be searching for an excuse to get out of attending.
Should the nuptials be a kid-free zone? More than 60% think weddings and children do mix, with 8% actually saying 'no thanks' to an invitation if their children aren't invited. Yet almost 40% look forward to hearing the vows and speeches without babies crying in the background.
What's happened to the hen-night? We are a nation divided with almost 45% are happy to head off for a week in the sun and blow the expense and an almost equal number (44%) preferring to rather stash their cash and spend an evening in a local wine bar. A suffering 11% will grin and bear an expensive foreign trip for the sake of the bride-to-be.
To gift, or not to gift… Guests are increasingly being asked to contribute money towards the honeymoon instead of the more traditional towels/kettle/saucepan gift ideas but more than half of us don't approve of this, with 27% believing a couple should pay for their own honeymoon. A go-with-the-flow 45% are happy to chip in to help the couple enjoy a holiday of a lifetime.
What to wear? Almost 60% of us would recycle an old outfit, while only a third will be hitting the shops for something new. A happy-go-lucky 11% give little thought to their clothes and only decide what to wear on the day of the wedding itself.
Bring on the buffet… Almost 60% hope there's been no scrimping on the catering, and are looking forward to sitting down to a decent spread (salmon and beef were equally popular choices). 40% favour a more informal buffet-style meal and the chance to relax and circulate with guests.
Which do guests enjoy more? 75% said they preferred to attend a low-key event paid for and organised by the couple themselves, while just a fifth cited a fancy no-expense-spared country-house 'do'. Only 5% preferred a simple registry office ceremony.
When to day 'I do' The majority (54%) of respondents agree with the Royal couple (Will, 28, and Kate, 29), believing aged 20-30 is the best time to get married. 41% think it's better to wait until over 30; 5% don't believe in marriage at any age.
And your perfect wedding? More than half (55%) would keep it small and intimate with just a couple of friends and a nice meal, while 28% believe in blowing the budget. 16% would escape from the UK – and their families – for a wedding in the Caribbean.
Helena Lang, Editor of Sainsbury's magazine, says, 'The recession has been tough for the wedding industry, but it hasn't stopped people getting married. Here at Sainsbury's magazine we know value for money is crucial and those personal DIY touches such as making your own cake mean a wedding everyone remembers. Our May issue features a gorgeous cake from celebrity cake maker Mich Turner with step by step instructions for budding brides and grooms.'
Sainsbury's magazine, which is published by Seven, the award-winning customer engagement agency, is now the UK's most widely read paid-for title. With just under 4 million readers every month (NRS), it is the only magazine to have won the covetable PPA Customer Magazine Award at the annual Periodical Publisher's Association (PPA) Awards three times.
Sainsbury's magazine's unique mix of food and lifestyle content offers its readers recipe inspiration from the magazine's renowned food team, plus ideas for their homes, families, health and holidays. At only £1.60, the monthly glossy is incredible value, with tips and advice from the best writers and contributors.
–ends–
Notes to editors
About Seven

Seven is an award-winning multi-channel strategic content agency.
Experts in creating intelligent, relevant and effective content across multiple channels, including magazines
websites, social media, interactive ezines, video, iPhone and iPad apps.

Clients of Seven include Virgin, Sainsbury's, CIMA, English Heritage,
Grant Thornton, Guardian Media Group, Lloyds Banking Group, New Look and Waterstone's.

Ali, PR, shareena(dot)ali(at)seven(dot)co(dot)uk 020 7775 5549.
Contact at Seven:
Shareena Ali
PR
Seven
3-7 Herbal Hill
London
EC1R 5EJ
Tel: 020 7775 5549
Email: shareena(dot)ali(at)seven(dot)co(dot)uk
###