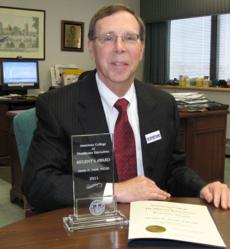 The award is granted to individuals with demonstrated leadership ability and innovative and creative management style.
Baltimore, MD (PRWEB) April 23, 2011
Just three years after becoming a Fellow of the American College of Healthcare Executives (ACHE), Dennis H. Smith, director of the Veterans Affairs (VA) Maryland Health Care System, recently received ACHE's VA Regent Award for the Senior Healthcare Executive Award category.
"I feel strongly that in Mr. Smith we have a superior hospital administrator who is worthy of this prestigious award," said Fernando O. Rivera, the director of the VA Capital Health Care Network that serves Veterans in Maryland, the District of Columbia, portions of Virginia, West Virginia and Pennsylvania. "As a creative and dynamic leader, Mr. Smith has a synergistic effect on the health care system by allowing his managers to develop innovative solutions and programs that serve Maryland's Veterans."
Developed to recognize a senior level health care executive and ACHE member, the award is granted to individuals with demonstrated leadership ability and innovative and creative management style. The Senior Healthcare Executive Award also recognizes ACHE affiliates who develop their organization and promote its growth and stature in the community, foster the development of others in the profession, and who has established themselves as a leader in local, state, provincial hospital and health association activities.
Under Smith's direction, the VA Maryland Health Care System, which serves more than 52,000 Maryland Veterans annually, now possesses one of the largest funded research and development programs in VA nationwide, including a Geriatric Research, Education and Clinical Center, a Multiple Sclerosis Center of Excellence and a Mental Illness Research, Education and Clinical Center. Moreover, Smith has positioned the health care system to be a leader in Veterans' health care, research and education. A leader dedicated to cultivating future health care professionals, Smith has also developed an active affiliation with the University of Maryland School of Medicine and other local colleges and universities. Thanks to this commitment, more than 1,100 residents, interns and students from various medical and allied health disciplines are trained throughout the VA Maryland Health Care System each year.
ACHE is an international professional society of more than 30,000 health care executives who lead hospitals, health care systems and other health care organizations. Known for prestigious credentialing and education programs, ACHE operates one of the largest publishers of books and journals on all aspects of health services management and textbooks used in college and university classes. It is also known for its ground-breaking research, career development and public policy. ACHE is also known for its two journals, Journal of Healthcare Management and Frontiers of Health Service Management and for its magazine, Healthcare Executive. Through its myriad of efforts, ACHE works toward its goal of being the premier professional society for health care leaders. The ACHE awards are bestowed according to region with a special region established for VA and Department of Defense health care facilities.
The VA Maryland Health Care System (VAMHCS) provides a broad spectrum of medical, surgical, rehabilitative, mental health and outpatient care to veterans at two medical centers, one community living & rehabilitation center and five outpatient clinics located throughout the state. More than 52,000 veterans from various generations receive care from the VAMHCS annually. Nationally recognized for its state-of-the-art technology and quality patient care, the VAMHCS is proud of its reputation as a leader in veterans' health care, research and education. It costs nothing for Veterans to enroll for health care with the VA Maryland Health Care System and it could be one of the more important things a Veteran can do. For information about VA health care eligibility and enrollment or how to apply for a VA medical care hardship to avoid future copayments for VA health care, interested Veterans are urged to call the Enrollment Center for the VA Maryland Health Care System, Monday through Friday, from 8 a.m. to 4:30 p.m. at 1-800-463-6295, ext. 7324 or visit http://www.maryland.va.gov.
###