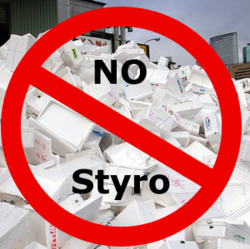 "We were basically paying to ship lots of air to our customers," says CEO Chad Laurans
(PRWEB) April 21, 2011
When SimpliSafe opened for business, their wireless home security systems were packaged in ready-made kits that were protected by Styrofoam. The company quickly realized that customers were not ordering kits, but rather preferring to create their own custom systems. Soon, SimpliSafe was custom building all of their systems. The company discovered that Styrofoam was not only hurting the environment, but the corporate bottom line as well.
Because the Styrofoam pre-packaged burglar alarms didn't match the custom orders they were getting from their customers, the company had to get bigger boxes to fit in both the kits and the extra components customers were ordering.
"We were basically paying to ship lots of air to our customers along with their wireless security systems," said CEO Chad Laurans.
SimpliSafe has now ditched the Styrofoam for 100% recycled paper, which is not only helping the environment, but has also led to huge savings in shipping costs. Now each SimpliSafe wireless home alarm is packaged to order and much more compactly into smaller boxes, leaving a smaller environmental footprint.
How important is this change for the environment? The basic building block of Styrofoam is Styrene. According to the Earth Resource Foundation (ERF), over 90,000 workers are regularly exposed to Styrene. They warn, "chronic exposure (to styrene) affects the central nervous system showing symptoms such as depression, headache, fatigue, and weakness, and can cause minor effects on kidney function and blood. Styrene is classified as a possible human carcinogen by the EPA and by the International Agency for Research on Cancer (IARC)."
Hydrocarbons are also used in Styrofoam which, when released into the air, create a serious ground pollutant. With more than 100 million Americans living in areas that fail to meet air quality standards, it's important to limit our use of Hydrocarbons. Although Styrofoam can be recycled, the technology is rarely used. Several cities have banned the use of Styrofoam all together, including Portland, Oregon and Orange County, California.
Is switching to recycled paper a serious improvement? According to the ERF, every ton of recycled paper sold saves:

12 trees
1,087 pounds of solid waste
1,560 kilowatts of energy (2 months of electric power required by the average US home)
1,196 gallons of water
1,76 lbs. of greenhouse gases (1,600 miles traveled in the average US car)
3 cubic yards of landfill space
390 gallons of oil
Now, SimpliSafe's wireless alarm system, which is protecting people and their homes throughout the country, is also helping to protect and preserve the earth.
About SimpliSafe
SimpliSafe Inc. is a leading provider of wireless home security systems and apartment alarms. Its alarm systems are packed with cutting-edge technology, smart software, and are incredibly easy to use. SimpliSafe was created as a counterpoint to traditional security companies, many of which thrive by selling outdated technology at highway-robbery prices. For more information visit http://SimpliSafe.com.
# # #